Some of us toss and turn to find the best sleeping position. Others, however, have that preferred position that quickly helps whisk them away to a restful night's sleep. If you have a strong preference for sleeping on your back, this is good to take into consideration as you shop for a new mattress.
More strategy goes into the development of sleep products than you may realize, and some are better suited than others to provide you with the combination of support and comfort if you sleep on your back. So, without further ado, let's take a look at how to pinpoint the best bed for sleeping on your back.
Pros and Cons of Sleeping on Your Back
The preference for back sleeping occurs in approximately 14 percent of sleepers, so, if you're in this group, you're in the minority. Because of this, it can be difficult to find much specific advice when it comes to this position. Before we get started, let's first take a look at some of the pros and cons of sleeping on your back.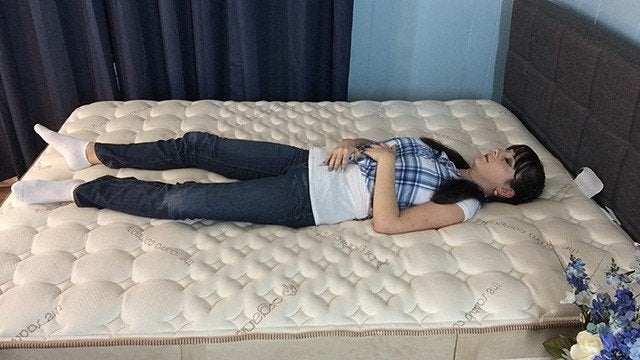 Pros
Facilitating for proper spinal alignment- the best mattress for back sleepers will enhance this
Facial wrinkles are slower to develop as the face isn't smashed against a pillow all night.
Helps balance your body weight and keep internal organs properly aligned
Helps promote proper posture
Cons
Sleeping on your back with a pillow can take the neck out of its preferred neutral position.
Since lying on your back can cause your tongue to collapse into the airway, those who suffer from sleep apnea or are prone to snoring may find an exacerbation in these areas.
A Few Back-Sleeping Tips to Sleep as Comfortably as Possible
While there are a few drawbacks when it comes to back sleeping, overall, it's a healthy position when it comes to your posture and contour. There are a few tips you can employ that can help you overcome some of the cons of back sleeping and enjoy more beneficial rest.
1. Use positioning pillows- If you have a few extra pillows lying around, they can be put to good use when you use them to more effectively position your body. A great place for them for back sleepers is under each arm.
2. To further promote spinal alignment, place a pillow under your knees. Keep in mind that, if you suffer from lower back pain, this could increase discomfort.
3. Use a pillow that will most effectively keep your head in place. Memory foam is often a good option to explore.
A Note for Back-Sleeping Pregnant Women
If you are a long-time back sleeper and have found out you're pregnant, there's some bad news you likely haven't considered. As the fetus grows, the more weight you'll carry in your uterus. Therefore, when you sleep on your back, you will feel the increased pressure on organs located behind the uterus. According to the American Pregnancy Association, the best sleeping position during pregnancy is on your side. You can often increase your comfort by placing a pillow in between your knees.
What to Look for in a Mattress for Back Sleeping
As you shop for the best mattress for back sleepers, there are a few general pointers to keep in mind. For starters, the most accommodating firmness option is typically going to be in the medium spectrum. The good news is that, of the mattress options on the market that don't offer firmness customization options, the default firmness is typically medium.
A Word on Innerspring Mattresses for Back Sleepers
If you enjoy the feel of an innerspring mattress, it's important to note that inferior products do tend to poke and jab your lower back when you sleep. They are also known to provide excess lumbar support which can lead to overcorrection of the spine.
If this has been your experience, the good news is that there are innerspring mattresses on the market which implement techniques to ensure these problems don't develop. The Avocado mattress is a great example, and we'll review it in detail in a moment.
A Little Sinkage Can Be a Good Thing
Back sleepers often prefer a little bit of giving in their mattresses. You want the bed to possess the ability to allow for the contouring ability to support your body shape. Oftentimes, however, there can be inconsistent support, and this can lead to discomfort. It has been my experience that all-latex products can offer that combination of comfort and support at a firmness setting to satisfy your preferences. In a moment, we'll take a look at the queen-sized Zenhaven mattress by Saatva. It did a great job at marrying comfort and support in a way that really encouraged proper contour.
Our Pick for the Best Mattresses for Back Sleepers
Okay, now you have a deeper understanding of your preferred sleeping position. You are one of the few who appreciate the many qualities this position offers, and you now know how to overcome some of the downfalls. Let's use that knowledge make a comparison of a few of our top picks for the best mattresses for back sleepers to pinpoint the one that will offer you optimal benefits.
1. Avocado – Best Innerspring for Back Sleepers
SPECS
Warranty: 10 Year Limited, Pro-rated
Layers: ½ inch Joma® New Zealand Wool
4 inches Natural Dunlop Latex, eco-INSTITUT certified
8 inch 3 zone pocketed coil system
Weight:  Twin- 59 lbs.
Full- 82 lbs.
Queen- 97 lbs.
King- 123 lbs.
California King- 122 lbs.
We touched on the fact that the wrong innerspring product can involve the sleeper being poked and prodded in the back as they sleep. The Avocado mattress implements the utilization of a three zone pocketed coil system. The coils float independently of one another, and this improves motion isolation and ensures that a problem with one coil doesn't have a negative impact on the entire bed. This is often experienced with continuous coil units.
Avocado uses 16 gauge wire made from recycled steel. For a queen-sized model, you want at least 800 coils. This indicates a quality mattress that will stand the test of time. My Avocado queen-sized model had 1,068 support coils. When combined with the ½ inch of 100% natural Joma® New Zealand Wool and 4 inches of 100 percent natural Dunlop latex, I found this to offer excellent support with a very accommodating comfort layer.
Pros
Durable cover that's pleasant to look at
Side handles make it easy to move the product when necessary
Pressure points in your back are minimized by zoning
Great combination of bounce and motion isolation
Cons
Lightweight back sleepers may find the product too firm
2. Zenhaven – Best Latex Mattress for Back Sleepers
SPECS
Warranty: 20 Years
Layers: 1 inch organic cotton cover
1 ½ inch 100 % Talalay Latex
3 inches 100 % Talalay Latex
3 inches 100 % Talalay Latex
1 ½ inch 100 % Talalay Latex
Weight: Not available
An all-latex mattress can be a viable option for back sleepers. I've tried out a couple, and I really felt Zenhaven by Saatva offered a great ratio of support to comfort. This mattress has a cover made of 100 percent organic New Zealand wool, and it's comprised of a full nine inches of 100 percent natural Talalay latex. One of my favorite features is the ability to flip the mattress and take advantage of a different firmness setting. While most back sleepers will find comfort in the luxury plush setting, those who carry more weight may have a preference for the gentle firm side.
Pros
All-natural product- indicator of good durability
Great value for quality of materials used
Good motion isolation
Breathes well
Cons
Costly for those on a budget
Product is kind of hard to move around
3. Dreamfoam – Best Hybrid Mattress for Back Sleepers
SPECS
Warranty: 10 year limited
Layers: 1.5 inch EuroTop cover made of super-soft reflex foam
3 inches 100 % Talalay Latex
8 inch high-density foam base
Weight: Twin- 70 lbs.
Twin XL- 75 lbs.
Full- 80 lbs.
Queen- 90 lbs.
King- 125 lbs.
California King- 125 lbs.
A hybrid sleep product is one that incorporates the combination of various materials throughout the mattress, and this can help by matching attributes of various materials that offer various benefits for the sleeper. When you consider the Dreamfoam Ultimate Dreams EuroTop Latex Mattress, you get to experience the plush comfort of the EuroTop cover and natural Talalay latex with the support of the high-density foam base. I always felt very refreshed having woken up on this mattress, and its firmness option makes it easier to customize the product to best meet your specific needs.
Pros
Excellent price for good durability expectations
Reduces aches and pains common to back sleepers
High degree of motion isolation to accommodate sleep partners
Excellent customer service
Cons
Some complaints of offgassing
4. Alexander Signature Select – Best Memory Foam
SPECS
Warranty: 20 years
Layers: 2 inches soft quilted foam
4 inches gel memory foam
1 inch visco foam
2 inches Smartflow foam
4 inch edge support base foam
Weight: Not Available
Memory foam is well-known for its ability to conform to the body. While traditional memory foam did have a tendency to make the sleeper feel as though they were stuck in the mattress, the Alexander Signature Select by Nest Bedding offers four inches of gel memory foam supported by two transitional layers of visco and Smartflow foams and a 4 inch edge support base foam layer. The combined unit works together to help you move around while still enjoying that increased contouring support. The densities of all the layers are indicative that the mattress is built to last.
Pros
Pillow top is very soft and comfortable
Multiple comfort and support layers
No offgassing
Ability to request a different firmness level if you aren't happy with your initial product
Cons
Some complaints of product being too firm for those who carry more weight
Difficult to move
Budget Mattresses
We understand that sometimes you aren't in the market for an expensive product that will last. Whether you are shopping for a child who will soon outgrow the mattress or are simply limited in your budget, there are low-cost products on the market that can offer accommodations for back sleepers to take advantage of.
5. Aveline – Best Mattress Under $200
SPECS
Warranty: 1 Year Manufacturer
Layers: (Mixed and matched depending on results of your Sleep Quiz)
2 inches gel-infused memory foam
6 inches high-density support foam
Weight: Twin: 31 lbs
Full: 40 lbs
Queen: 47 lbs
King: 63 lbs
The 8 inch Aveline queen-sized mattress offers the properties of memory foam and increased contour at a surprisingly low cost. For under $200 dollars, you can enjoy the way the mattress conforms to the unique curvature of your spine while the high-density foam base helps keep you adequately supported. If you carry a lot of weight or have a sleep partner, you may want to consider one of the thicker versions available. They cost a little bit more but are still a great overall value.
Pros
Good motion isolation
Very low cost
Easy to clean
Breathes well
Cons
Slight offgassing
Low durability expectations for those who carry a lot of weight
Low edge support
Brentwood Bamboo Gel 13- Best Mattress Under $500
SPECS
Warranty: 25 Year Limited
Layers: (Mixed and matched depending on results of your Sleep Quiz)
Bamboo, New Zealand Wool, Polyester cover
3 ½ inches Gel Memory Foam
2 inch Airflow Layer
7 ½ inch Base Foam
Weight: Not Available
For a mattress under $500, the Brentwood Bamboo Gel 13 inch mattress offers good densities that indicate the mattress will last longer than many other mattresses in this price range. Gel beads are incorporated into the top comfort layer, and I found this to help the mattress breathe very well to help sleepers maintain the proper body temperature for optimal sleep. This is further facilitated by the Airluxe ventilated layer. It's in the medium firmness level, ideal for most back sleepers.
Pros
Quality high for the cost
Sleeps cool
Uses natural products
Great motion isolation
Cons
Some complaints of mattress being too plush, although this could be preferred or those who carry little weight
Some complaints of the development of sagging over time
6. Helix – Best Mattress Under $1000
SPECS
Warranty: 10 Year Limited
Layers: (Mixed and matched depending on results of your Sleep Quiz)
Proprietary Helix Dynamic Foam
Pocketed microcoils
High-grade polyfoam base
Weight: Twin: 45 lbs
Twin XL: 50 lbs
Full: 65 lbs
Queen: 75 lbs
King: 90 lbs
California King: 95 lbs
If you enjoy the ability to have some say when it comes to the development of your new mattress, you may find Helix's customization process a breath of fresh air. They understand that every customer is different, and they allow you and your sleep partner to answer a variety of questions to match you with just the right product to meet both of your needs. One of the considerations is your preferred sleeping position. Best of all, you can choose between dual and blended products to best accommodate sleep partners.
Pros
Helps reduce upper and lower back pain
Helpful customer service
Ability to custom-design your mattress
Low offgassing
Cons
Some complaints of mattress being too firm or soft
Cover is thin and is known to bunch up
The Verdict
We are all unique, and it's the little things that can set us apart. When it comes to mattress shopping, you must keep in mind that, as a back sleeper, you fall into the minority as most people are side sleepers. This can put you at a disadvantage as you shop as you may find it difficult to uncover the information specific to your preferred sleeping position. Now you have a better understanding of what to look for to find the product that will work best for you.
I hope this information has helped, and I encourage you to carefully analyze the quality options included in this list. Memory foam products can help encourage the right degree of contour, and there are even zoning features that can be of specific help for those who sleep on their backs. If you have any questions before you make your final decision, feel free to ask below. We also welcome your comments.