Best Mattress for Back Sleepers
Some of us toss and turn to find the best sleeping position. Others, however, have a preferred position that quickly helps whisk them away to a restful night's sleep. If you have a strong preference for sleeping on your back, this is good to take into consideration as you shop for a new mattress.
More strategy goes into the development of sleep products than you may realize, and some are better suited than others to provide you with the combination of support and comfort if you sleep on your back. Let's take a look at how to pinpoint the best bed for sleeping on your back.
Pros and Cons of Sleeping on Your Back
The preference for back sleeping occurs in approximately 14 percent of sleepers, so, if you're in this group, you're in the minority. Because of this, it can be difficult to find much specific advice when it comes to this position. Before we get started, let's first take a look at some of the pros and cons of sleeping on your back.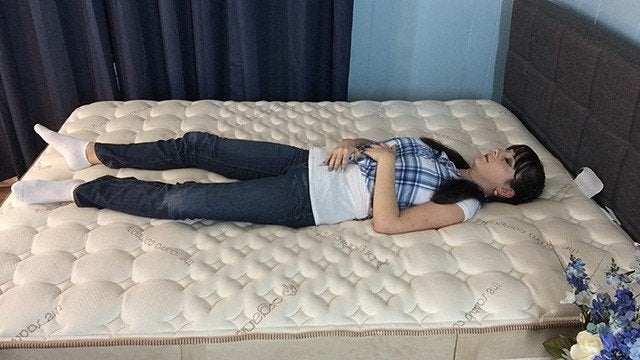 Pros
Facilitating for proper spinal alignment- the best mattress for back sleepers will enhance this
Facial wrinkles are slower to develop as the face isn't smashed against a pillow all night.
Helps balance your body weight and keep internal organs properly aligned
Helps promote proper posture
Cons
Sleeping on your back with a pillow can take the neck out of its preferred neutral position.
Since lying on your back can cause your tongue to collapse into the airway, those who suffer from sleep apnea or are prone to snoring may find an exacerbation in these areas.
A Few Back-Sleeping Tips to Sleep as Comfortably as Possible
While there are a few drawbacks when it comes to back sleeping, overall, it's a healthy position when it comes to your posture and contour. There are a few tips you can employ that can help you overcome some of the cons of back sleeping and enjoy more beneficial rest.
1. Use positioning pillows- If you have a few extra pillows lying around, they can be put to good use when you use them to more effectively position your body. A great place for them for back sleepers is under each arm.
2. To further promote spinal alignment, place a pillow under your knees. Keep in mind that, if you suffer from lower back pain, this could increase discomfort.
3. Use a pillow that will most effectively keep your head in place. Memory foam is often a good option to explore.
A Note for Back-Sleeping Pregnant Women
If you are a long-time back sleeper and have found out you're pregnant, there's some bad news you likely haven't considered. As the fetus grows, the more weight you'll carry in your uterus. Therefore, when you sleep on your back, you will feel the increased pressure on organs located behind the uterus. According to the American Pregnancy Association, the best sleeping position during pregnancy is on your side. You can often increase your comfort by placing a pillow in between your knees.
What to Look for in a Mattress for Back Sleeping
As you shop for the best mattress for back sleepers, there are a few general pointers to keep in mind. For starters, the most accommodating firmness option is typically going to be in the medium spectrum. The good news is that, of the mattress options on the market that don't offer firmness customization options, the default firmness is typically medium.
A Word on Innerspring Mattresses for Back Sleepers
If you enjoy the feel of an innerspring mattress, it's important to note that inferior products do tend to poke and jab your lower back when you sleep. They are also known to provide excess lumbar support which can lead to overcorrection of the spine.
If this has been your experience, the good news is that there are innerspring mattresses on the market which implement techniques to ensure these problems don't develop. The Avocado mattress is a great example, and we'll review it in detail in a moment.
A Little Sinkage Can Be a Good Thing
Back sleepers often prefer a little bit of giving in their mattresses. You want the bed to possess the ability to allow for the contouring ability to support your body shape. Oftentimes, however, there can be inconsistent support, and this can lead to discomfort. It has been my experience that all-latex products can offer that combination of comfort and support at a firmness setting to satisfy your preferences. In a moment, we'll take a look at the queen-sized Zenhaven mattress by Saatva. It did a great job at marrying comfort and support in a way that really encouraged proper contour.
The Verdict
We are all unique, and it's the little things that can set us apart. When it comes to mattress shopping, you must keep in mind that, as a back sleeper, you fall into the minority as most people are side sleepers. This can put you at a disadvantage as you shop as you may find it difficult to uncover the information specific to your preferred sleeping position. Now you have a better understanding of what to look for to find the product that will work best for you.
I hope this information has helped, and I encourage you to carefully analyze the quality options included in this list. Memory foam products can help encourage the right degree of contour, and there are even zoning features that can be of specific help for those who sleep on their backs. If you have any questions before you make your final decision, feel free to ask below. We also welcome your comments.