Saatva has been dominating the online mattress industry for years. Recently, I was lucky enough to receive their Loom and Leaf premium memory foam queen-sized mattress. I'm excited to share my experience with you so you can make an informed decision before you buy one of your own. Online mattress shopping opens up a number of quality options, but you have to take the time to research them. It's my goal to provide you with everything you need to know about this quality product, so let's get started!
Video Review
Don't want to read the full review? Watch our video review instead.
About the Company
Customer satisfaction can tell you a lot about a company and nothing indicates customer satisfaction quite like a five-star review. Saatva has received in excess of 15,000 five star reviews from their customers. They are ranked by Forbes magazine at number 68 of the top 100 promising companies in the United States. Since they were founded in 2010, Saatva has grown to operate 19 factories throughout the United States and they ship from coast to coast. When you work with their customers service representatives, you can rest assured that they don't work on a commission. This ensures you won't be pushed into a sale that you aren't confident in. They have no less than 135 fulfillment centres that are responsible for the delivery of your mattress.
The Beauty of In-Home Setup
Whether you have physical limitations that can make it difficult for you to manage heavy items or simply prefer to avoid such tasks, you'll be happy to lean you don't have to unbox your Saatva product yourself. Their mattresses are set up in your home by your delivery personnel. In my case, the delivery guys were professional, quick, and to-the-point. It took them less than 30 minutes to get the mattress from the truck to being completely set up in my bedroom.
Saatva's Lineal Base Option
Loom and Leaf is compatible with an adjustable frame, and I opted for their Lineal base. I have been very satisfied with the base as it offers a number of neat features including a head and foot massage, and I'd definitely recommend you check it out. Depending on the size, it can be added for $1,199 – $2,498. A few other features that the base offers include:
One-touch remote
Zero gravity support
Wall-hugging design
Wave, leg, and head massage
Loom and Leaf Organic Cotton Cover
I always like to start at the top, so let's take a look at the Loom and Leaf organic cotton cover. It's quilted with a 5/8" foam layer and Saatva's natural thistle flame retardant. I love the way the mini foam layer makes the cover feel. It's really soft, and it also features a unique design that feels quite nice. The quilting pattern is very compact and tight, and it's much denser in the middle while the top and bottom are spread out more. The purpose is to provide better support in areas that need it. From an aesthetic standpoint, I love the way this cover looks. Aside from the top pattern, I also like the color of the side panels and trim. The mattress also features two handles on each side, and this makes it really easy to move around should you ever need to do so.
You may want to read: Loom and Leaf vs Nectar
Durability You Can Count On
Some consumers are in the market for a mattress to get them by a few years, at which point they plan to buy something more long-lasting. This could be the case if you're on a tight budget or are buying for a small child who will soon outgrow the product. However, if you're looking for something that will stand the test of time, Loom and Leaf delivers a remarkable level of quality that won't disappoint.
You may want to read: Loom & Leaf Vs. Casper
Ultra-Luxury Memory Foam: A Look at Layer Construction
When it comes to memory foam, you want a density of between four and five pounds to ensure you can expect the highest durability. Thankfully Loom and Leaf delivers exactly that. Starting with the top comfort layer, we find Saatva's patented gel-on-gel design that provides a cool, supportive sleep environment in three ways.
For starters, the 2 inch convoluted 4 lb. top memory foam layer uses a "gel-swirl" construction technique that provides even weight distribution. This provides a cooling sensation throughout the foam layer. It uses an inverted foam tip design, which allows for excellent air-flow and circulation.
Finally, Loom and Leaf's cooling gel spinal panel is laminated onto the top layer for increased cooling and spinal support. The cooling gel used is typically found in burn units and hospitals, so you can count on its purity. It's laminated to the flat side of the convoluted foam and placed in the lumbar section of the mattress to maintain a targeted cool zone to the area of the body that generally retains heat.
Next, we arrive at the 2 ½ inch layer found at the heart of the mattress that offers deep contouring support. The density at this layer is 5 pounds, which indicates superior durability. Furthermore, since it's CertiPUR-US certified, you can rest assured that it has met rigorous testing requirements for physical performance, indoor emissions, and environmental stewardship.
Moving further down, we find the 2 inch transition loft pad which allows the layers above and below to work together to provide support, conforming properties, and healthy comfort. Finally, the 5 ½ inch high-density foam core acts as the foundation and support for the layers above.
Two Firmness Options
Loom and Leaf offers two firmness options. Their flagship comfort level is relaxed firm, and this is the model I received. You can also choose their firm mattress. This could be a good option if you carry a lot of weight or prefer to sleep on your stomach.
Loom and Leaf Sinkage and Edge Support Tests
Let's take a look at sinkage expectations for the relaxed firm option. I applied my 130 pounds to an area in the middle of the mattress of 9 by 7 inches, and I sunk in right about 7 inches. I've tested quite a few medium mattresses and I typically sunk in around 6 ½ inches, making this product just a tad plusher than most mattresses on the market. I personally prefer a plusher product, so I enjoyed this. However, if you prefer a firmer mattress, you can always opt for their firm option.
Next, we'll examine the edge support. First, I sat on the edge of the mattress with my knees against the side. I was pretty well supported and didn't sink in too much. However, when I scooted forward, I did sink in a little bit more. Overall, though, the edge support on this product is pretty good. I was very well supported when I laid on the edge of the product. If you do find yourself on the edge often, I think this is a decent mattress to consider.
No Offgassing
Offgassing is a common occurrence with a number of product types on the market, and mattresses are just one of them. It occurs when volatile organic compounds are released and is marked by that "new" smell we often associate with cars and shoes. Many consumers are bothered by offgassing. If you're one of them, I'm pleased to tell you that I didn't notice any offgassing with my Loom and Leaf mattress. You should able to sleep on it right away without any problems.
Support and Comfort
If you carry a lot of weight, it can be difficult to find a mattress that will last. Thankfully the Loom and Leaf is capable of supporting up to 300 pounds for individuals and up to 600 pounds of combined weight for sleeping partners. Considering the high density of the memory foam, this can be a great solution for heavier people.
I felt well supported on my relaxed firm model and despite the fact that memory foam is used in the majority of its construction, I found it quite easy to move around to find that perfect sleeping position. I think Loom & Leaf did a nice job finding a balance between comfort and support.
Motion Isolation
Whether you share your bed with your significant other, child, or pet, you probably know how disturbing it can be when they continually move around or get in and out of bed. That's why we like to demonstrate motion isolation. Using two 20 pound medicine balls, I tested the product to determine what you can expect with Loom and Leaf.
Memory foam is well known for its ability to reduce motion transfer, so my expectations were high. First, I dropped one ball on the bed to determine bounce. It very quickly came to a rest after just two small bounces upon landing. Next, I scooted it to the side and dropped the other ball on the opposite side of the bed. As I expected, that had very minimal impact on the resting ball. But, just to make sure, I dropped it closer. Still, the resting ball was minimally impacted. Considering the high degree of motion isolation and the fact that this bed is capable of holding up to 600 pounds of combined weight, I think this is a great product for sleeping partners. Never worry about disturbing your sleep partner again!
Breathability and Temperature Regulation
We've discussed the different ways that Loom and Leaf helps ensure a cool night's rest, so I put it to the test. I laid on my Loom and Leaf mattress for a period of 30 minutes in a controlled environment of 64 degrees Fahrenheit. Using my thermal imaging camera, I watched to see how long it took to return to room temperature. It took just seven and a half minutes to cool back down. Of the mattresses I've tested, it has taken an average of 10 minutes to accomplish this, so I think Saatva's efforts to create a memory foam product that sleeps cool were pretty successful.
You may want to read: Loom and Leaf Mattress Vs. Novosbed Mattress
Maintenance, Protection, Care, and Warranty
If you're considering purchasing the Loom and Leaf mattress, you're interested in a mattress that will offer many years of comfort and support. While you can purchase this product at just a fraction of the cost of other mattresses of comparable quality, it's still a significant investment. So it's important that you understand how to make the most of it.
120-Day Home Trial
Ordering a mattress online means you don't get to lay on it before you purchase and Saatva understands that dilemma. That's why they offer a 120 day trial period. This allows you four full months to try the mattress out and ensure it's everything you expected. You also get peace-of-mind in a 15 year warranty. Your trial period starts on your delivery date. If for any reason you aren't happy with what you receive, Saata will make the necessary arrangements to have the mattress picked up and refund all of your money excluding the original delivery charge. You won't be held responsible for any restocking fees or pickup charges.
Customer Service You Can Count On
We touched briefly on the fact that Saatva's customer service representatives are non-commissioned, but let's take a moment to fully understand what that entails. Commissions often make up a large percentage of the income of the representation that you work with. In some cases, people work completely on commission. These commissions are paid only when a sale is made. That's why you have likely experienced pushy salesman in the past. Your buying actions dictate their ability to pay their bills.
I had the pleasure of working with a Saatva customer service representative through an online chat. He was very to-the-point in answering my questions and never pressured me. I felt comfortable as I continued to look over the information provided on their website. In my experience, Saatva's customer service was superior to many other companies.
You may want to read: Loom & Leaf Vs Helix
Loom and Leaf Mattress Cost
I've only had my Loom and Leaf for a couple of weeks. However, based on the densities of the memory foam found within the product, there is reason to believe the product will last for many years to come. The efficient online business model eliminates a number of costs involved with shopping retail. You can purchase your very own Loom and Leaf mattress at a fraction of what you would expect to pay for comparable products featuring the same materials and durability expectations.
You may want to read: Loom and Leaf Vs Layla Mattress
Loom and Leaf Reviews and Feedback
Overall, I have had a very positive experience on my Loom and Leaf mattress. In fact, I don't have any negative comments at all to report on this product. My favorite feature is the cover and the way its design feels. Combined with the adjustable base, I was able to get the support I need whether watching television or laying down for a good night's rest.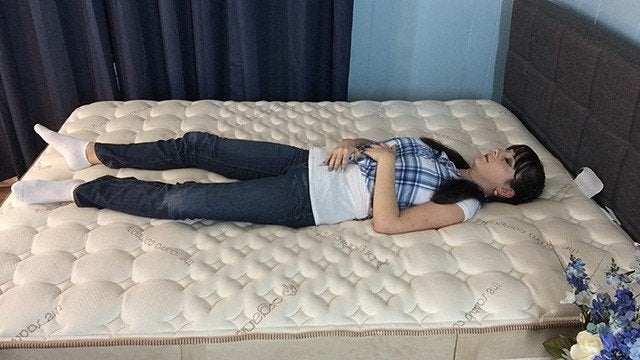 Traditional memory foam does have a tendency to sink in and leave the sleeper feeling stuck. However, I was able to move around easily. This product does a great job of offering both comfort and support, and I was very impressed with its aesthetic properties. I am a long-time memory foam fan, so some of my opinions may not reflect your personal preferences. That's why I took a moment to see what other customers are saying about this product to provide you with a more well-rounded understanding of what you're getting:
Pros
High density memory foam increases durability
Great value for quality of materials
Excellent motion transfer reduction
Product breathes well and is effective in temperature regulation
Cons
Pricey for those shopping on a tight budget
Some complaints of limitations in firmness options
You may want to read: Loom and Leaf Vs. Green Mattress
Who We Recommend the Loom and Leaf Mattress For
The investment in a mattress is a very important one. The quality of your sleep largely dictates your productivity and satisfaction in daily life. That's why it's so important that you to take the time to understand any mattress before a purchase. Let's take a moment to review the highlights of the Loom and Leaf mattress to help you determine if this is the right mattress for your unique needs and preferences:
You weigh up to 300 pounds or have combined weight with your sleeping partner of up to 600 pounds and have had trouble in the past finding a product to offer the support you need.
You enjoy memory foam but don't like feeling "stuck" and sleeping hot.
You are in the market for a product you can expect to last.
You want a product that reduces motion transfer.
You may be interested in: Loom & Leaf Vs. Dreamcloud
Our Final Verdict
You don't have to spend a fortune on a quality product that you can expect to last. Loom and Leaf utilizes the online business model, allowing you to get a high-quality mattress at an affordable price. Many memory foam products feature densities of 3 pounds or less and these companies often rely on consumer ignorance to get by with selling them at exorbitant prices.
Loom and Leaf is a mattress that you can count on with high density along with a cool night's rest. It's great for those who carry a lot of weight and allows for the contour necessary to reduce painful pressure points. All in all, I feel confident in telling you that you're getting great value in this product. Stop considering the Loom and Leaf and become Saatva's next satisfied customer.
You may want to read: Loom and Leaf Vs. Avocado
The Loom and Leaf Mattress Specs Table
| Material | Thickness | ILD | Density |
| --- | --- | --- | --- |
| Organic cotton cover | 1 inch | n/a | n/a |
| Convoluted memory foam | 2 inches | n/a | 4 lbs. |
| Contouring memory foam | 2 ½ inches | n/a | 5 lbs. |
| Transition loft pad | 2 inches | n/a | n/a |
| High-density foam core | 5 ½ inches | n/a | n/a |
| Offgassing | Firmness Level | Trial Period | Warranty |
| --- | --- | --- | --- |
| I experienced no offgassing | 5 | 120 nights | 15 Years |
Frequently Asked Questions
Is a Foundation Needed?
You can use the Loom and Leaf mattress on the floor. However, understand that contact with organic surfaces on the floor can lead to mildew due to decreased airflow. I strongly suggest that you use a foundation.
Is a Mattress Pad or Protector Needed?
A protector is not required for use, but I'd still recommend that you consider the purchase of a quality mattress protector to increase the durability of your mattress. This is especially true if the product will be used by kid or pets.
Does it Work on Adjustable Beds?
Yes. I have had a very positive experience using mine in combination with Saatva's Lineal adjustable base.
Are Returns Hassle-Free?
100% full refund during 120 night sleep trial.
What's the Warranty?
15 years.
Is There A Trial Available?
Yes, 120 nights.
Does It Need To Be Rotated?
No.