With technological advances, it also means that we've been programmed to be constantly on the go. In comparison to previous years, we're also getting far less sleep. Being digitally connected means that we're constantly distracted by our smartphones, laptops, Kindles and other digital devices. Unbeknownst to us, a lack of sleep actually has multiple detrimental effects to both our physical and mental health.
Sleep loss not only hurts your cognitive process in many ways, but it is also one of the biggest factors of accidents and injuries on the job. It also affects your physical health and makes you more prone to gaining weight while also putting you at risk of serious health problems such as heart disease, heart attack, high blood pressure and more. While the digital world is certainly a factor for loss of sleep, other factors such as stress, your environment, and even your mattress also play a significant part.
Let's Take a Closer Look
If you want to clean up your sleep hygiene and get it back on track, investing in a good quality mattress will put you on the right path. In recent years, the trend of memory foam mattresses has started to pop up and has become one of the more popular options. No surprise there, as memory foam mattresses are known to provide multiple benefits such as contouring to your individual body shape, distributing your body weight evenly and being plush and comfortable. To keep up with the trend, mattress companies are also experimenting by combining memory foam with other cutting-edge features to stand out.
The Novosbed Mattress and the Loom and Leaf Mattress are two mattresses that have used memory foam and combined it with other unique technologies. While the Novosbed Mattress utilizes an advanced 5th-generation high-density memory foam, the Loom and Leaf Mattress is also made of premium memory foam and has constructed a special cooling spinal gel within the layers.
A Breakdown of the Novosbed Mattress
Check out our first impression with this mattress.
— Construction of the Novosbed Mattress
The Novosbed Mattress is mostly made of memory foam but uses a special 5th generation high-density memory foam. What makes this memory foam special is that it not only contours your specific body shape, but it also supremely comfortable and has very minimal motion transfer. With all these benefits, it's no wonder that the Novosbed Mattress is one of the most popular on the market.
In terms of firmness, you are able to purchase the Novosbed Mattress in the different levels of soft, medium and firm. However, if you're not happy with either of these firmness levels and want something that's in between, you can easily adjust it with Comfort+. Novosbed is the pioneer of this incredible solution to individuals who are not happy with the firmness of their existing Novosbed Mattress.
High-density memory foams are also used in the construction of the Novosbed Mattress. This material is highly durable and ensures that the mattress can last for up to 15 years or more.
• Top Layer – Ultra-Soft Washable Cover
This cover is not just extremely soft to the touch, it's also washable and easy to remove. Since the material of the inner cover is made of the same material that you can find on high-end furniture, you can be assured of its durability.
• Second Layer – Novos Comfort Zone
After the cover, the second layer is the Novo Comfort Zone. This zone is made up of that next-generation memory foam which makes the mattress a sleep haven. Either than added comfort, the foam also helps to facilitate heat distribution through open-cell airway foam that creates multiple airways for air circulation.
• Third Layer – Recore Transition Zone
The transition zone acts as a layer between the support and comfort zone. Its function is to provide you with what memory mattresses are known for. When you sink into the bed, you'll get a body contouring feeling along with the relieving of pressure points and that's all thanks to the record transition zone of the mattress. The transition zone also absorbs movement and thus prevents motion transfer from happening. Hence, you can sleep soundly even if your partner is tossing and turning in bed.
• Fourth Layer – Durabase Support Zone
The final layer is the structure and foundation for the whole mattress. It's made up of a sturdier type of foam that helps to provide support to your entire body. This foam also helps to distribute the weight evenly. Since this is the overall foundation of the mattress, it's no surprise that it's made up of durable materials to help keep the mattress long-lasting.
— The Firmness of a Novosbed Mattress
You can purchase the firmness of the Novosbed Mattress in soft, medium and firm. Soft mattresses are meant to cater to individuals that are side and back sleepers, the medium mattress is recommended for any sleeping position and the firm mattress is predominantly for back and stomach sleepers.
However, if none of the firmness levels are to your liking, you can still adjust it with Comfort+. It's easy to install and you can adjust the firmness level in accordance with your personal preference.
— Feel of a Novosbed Mattress
You'll notice how plush and thick the memory foam of the Novosbed Mattress is once you've felt it. After all, the Novosbed Mattress is made up of over 4 inches of memory foam. When you push down onto the mattress, you'll feel them memory foam contouring to your body as you slowly start to sink in.
— Unique Features – Novosbed Mattress
• Firmness Options
Imagine heading to the store and finally purchasing the mattress of your dreams, you're happy with what you've decided on and can't wait to finally unwind and relax on the mattress. Once your mattress has arrived, you get some wonderful nights of sleep and then start to find that the firmness of the mattress isn't quite to your liking. Do you return the mattress or do you decide to continue sleeping on a mattress that isn't quite suited to your individual preference?
While certainly not ideal, the above scenario is much more common than one might think. To solve this issue, Novosbed has created Comfort+. With this addition, you'll be able to adjust the firmness of your mattress easily. You can choose to have a firmer mattress and get more support or melt into the plushness of a softer mattress.
A Breakdown of the Loom and Leaf Mattress
— Construction of the Loom and Leaf Mattress
The Loom and Leaf Mattress is similar to the Novosbed Mattress in that they're both made of memory foam. However, the main difference is in what goes into the specific layers. The Loom and Leaf Mattress, for example, uses a special cooling gel technology that they've incorporated into their mattress layers. They've named this technology the cooling spinal gel and as the name suggests, it not only helps to make sure that you stay nice and cool throughout the night, the gel also helps to support the spine.
Loom and Leaf pride themselves in being committed to their research and providing individuals with the best sleep regardless of your preferred sleep position. They even go a step further and detail the health benefits which the mattress provides. Some of the health benefits that they've stated include improved circulation from the contouring foam, joint pain relief from the responsive foam layers and increased energy from the cooling gel that keeps you comfortable.
• Top Layer – Organic cotton and quilt
The Loom and Leaf mattress starts off with a luxurious layer of an organic cotton cover that is not only breathable, it also keeps you cool and comfortable. The cotton cover is also quilted with a foam layer as well as natural thistle – a plant-based fiber mesh that's made mainly from wood pulp and bonded with a small amount of polyester. Thus, also creating a flame retardant barrier.
• Second Layer – Two inches of cooling spinal gel
The cooling spinal gel is a special technology that has been created by Loom and Leaf. Either than making sure you don't overheat while you're sleeping, it also helps to provide spinal support. How it works, is that this memory foam layer contains a unique gel-swirl construction technique that evenly distributes a cooling sensation throughout the foam layer. It also has an inverted foam tip design which facilitates greater circulation of air flow. The cooling gel also helps to provide support to the spine as it is laminated to the flat side of the foam and strategically positioned in a mattress section that targets the lower part of the back.
• Third Layer – 2.5 inches of premium foam that weigh 5lbs
This is the middle of the mattress and provides your body with the contouring support that it needs. Loom and Leaf have also stated that this layer contains high-quality premium foam that has not only met stringent criteria for physical performance, it has also met the conditions for being environmentally friendly.
• Fourth Layer – 2 inches of transition loft pad
This transition layer rests between the base and the premium foam layer. As a transition layer, it allows the layers above and below to work off one another to provide the best results for support, comfort, and contouring to your individual body shape.
• Fifth Layer – 5.5 inches of a support base
The last layer is the support base which is made of high-density foam. As the base of support, it gives the mattress its structure and provides a foundation for the other layers that precede it.
— The Firmness of the Loom and Leaf Mattress
The Loom and Leaf Mattress comes in two types of firmness to cater to individual preferences. You can either select the Loom and Leaf Relaxed Firm or the Loom and Leaf Firm.
The Loom and Leaf Relaxed Firm is the company's flagship level of comfort and is meant to fall in between the firmness of hard and soft. In terms of rating, it would probably fall between the scale of 6.5 and 7 – thus making it a little firmer than the average memory foam mattress. It's suitable for individuals that prefer to sleep on their, side, back or stomach.
For the Loom and Leaf Firm, it's catered to individuals that prefer mattresses that are a tad firmer than usual. On the scale, it would fall between and 8 and an 8.5. It's suitable for individuals that prefer to sleep on their back or stomach, or if they've been recommended by their healthcare professionals to sleep on a firmer mattress.
— Feel of the Loom and Leaf Mattress
There's definitely a difference depending on the firmness that you select. For the relaxed firm, you'll start off by noticing the smooth softness of the organic cotton cover. When you push down into the mattress, you'll notice that it's a little firm before getting that classic memory foam feel. After that, you'll notice the bed contouring to your body and providing the right support.
For the firm version, it's a little more solid than its relaxed firm counterpart and you'll get more support and a little less of that sinking feeling.
— Unique Features – Loom and Leaf Mattress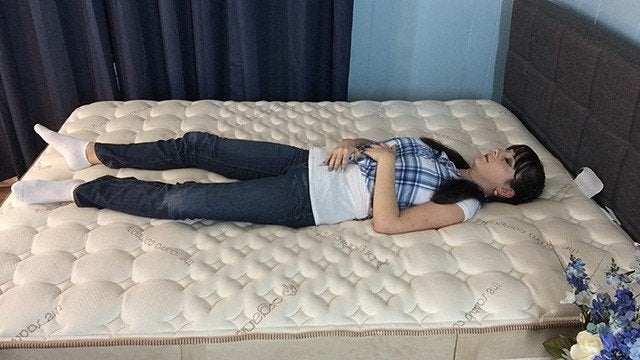 • Cooling Spinal Gel
The unique feature of the Loom and Leaf Mattress is definitely its cooling spinal gel technology. It's not only completely non-toxic and will never break down, but it is also laminated into the top memory foam layer and specifically placed in the lower back area of the mattress to support the spine.
Which One To Get
— Novosbed Mattress
Even though the Novosbed Mattress is also made entirely of memory foam, it has a different feeling in comparison to that of the Loom and Leaf Mattress. If you prefer a mattress that is not only a little softer but something you can sink into faster, the Novosbed Mattress would be an ideal choice.
With the Novosbed Mattress, you can also decide your ideal firmness – which is great for individuals that are slightly more particular about this. The Novosbed Mattress comes with Comfort+ which easily allows you to adjust the firmness in accordance with your preference. You'll even get to try Comfort+ if you decide to go with the 120-day trial – allowing you to be extra confident in your decision.
Even though the Novosbed Mattress still gravitates towards the pricier range, it's also a good long-term investment as the mattress can be used for 15 years or more. The Novosbed Mattress is also made with durable material to ensure that it is sturdy and functional.
Check our updated novosbed review here.
— Loom and Leaf Mattress
Since the Loom and Leaf Mattress has a cooling spinal gel, it'll make sure that you're comfortable and sleep better throughout the night. While most individuals tend to feel hot when sleeping with a memory foam mattress, you definitely won't have that issue with Loom and Leaf's mattress.
As the Loom and Leaf model is predominantly made with memory foam that contours to your body and fills the natural gaps within them for healthy spine alignment, it sinks in a little slower in comparison to other memory foam mattresses. Hence, it's great for side sleepers as it'll help to relieve pressure on the shoulders and hips. However, if you're more of a back or stomach sleeper, you might want to get a firmer model.  It has a little less bounce in comparison to other memory foam mattresses, so you get that classic, sinking feeling in full that some individuals may not be too fond of.
The Loom and Leaf Mattress retails at a higher price in comparison to other memory foam mattresses. However, it's made of durable materials and is a good choice for a bed that you plan on using in the long run.
Read our full review here.
Novosbed Mattress VS Loom and Leaf Mattress Comparison
Rank
Novosbed Mattress
Loom and Leaf
#2
Layers Used
4 layers

cover
next-generation memory foam
transitional memory foam
and premium support foam

5 layers

cover
cooling spinal gel
eco-friendly 5lb premium foam
transition loft pad
and the support base

#3
Height
11 inches, but 13 inches when using
the Comfort+ firmness adjustment
12 inches
#4
Firmness
Soft to Firm (adjustable with Comfort+)
Two different types: the relaxed firm
and firm
#5
Motion Transfer
Good
Good
#6
Breathability
Good
Good
#7
Trial Period
120 nights
120 nights
#8
Warranty
15 years (with the first 10 years non-
prorated, and the remaining 5 years
prorated)
15 years
#9
Pricing (Queen)
CAN $1,399
USD $1,299 with financing options
available through Klarna
#10
Shipping
Free shipping (some remote locations
may require shipping fees). They only
ship to the United States and Canada
Free shipping
Only ships to the United States with
free white glove delivery
Conclusion
Even though both the Novosbed Mattress and the Looms and Leaf Mattress are made from memory foam, they have different features and are unique in their own individual ways. Before you make your purchase, it would be best to do a little more research to see which mattress would suit your individual needs best.
If you have any back or medical issues, it would be wise to seek advice from a medical professional as he or she may feel that one mattress would suit you better over the other. You can also take a look at some of the reviews online to see what other individuals that have purchased the mattresses have to say.
Since a mattress is a long-term investment for both your physical and mental health, you want to make sure that the mattress you select will provide you with the rest and relaxation that you deserve. After all, there's nothing better than sinking into a comfortable bed after a long day on the go.
You might be interested in: 10 Things You Didn't Know About Buying A Mattress Online