Most people spend more time sleeping every week than they do at a full time job. When you find that perfect mattress, you create a comfort zone unique to you. We're here to help you discover just what that is by personally testing out some of the best mattresses on the market. We've picked out some of our favorites based on quality, lifespan, comfort, motion transfer, heat retention and so much more. Choosing a mattress is a choice that has a significant impact on your overall quality of life. As you browse our top picks, reference our buying guide to match you up with the options best suited for you.
See our Top Mattresses
Rank
Mattress
Highlights
Trial / Warranty
Coupons
#1

Saatva Mattress

High quality materials
Excellent value for the cost
Easy to move around
3 Firmness Level Options

180 Night Trial
15 Year Warranty

Save $75 – Click Here
#2

Nectar Mattress

Excellent motion transfer capability
High degree of bounce for a memory foam product
Great price
Industry leading trial period and warranty

 

365 Night Trial Period
Forever Warranty

$399 FREE Accessories with mattress purchase
#3

Avocado Mattress

Certified organic
Good breath-ability
Side handles help move the product
Only company with a vegan option

365 Night Trial Period
10 Year Full Replacement Warranty Plus 25 Years Limited Warranty

Save $150 – Use Code SLEEPJUDGE
#4

Novosbed by GoodMorning.com

Very Durable
Great for all sleeping positions
High degree of heat transfer capability
No off-gassing

120 Night Trial Period
15 Year Warranty

50% off with mattress purchase
#5

Zenhaven Mattress

All-natural materials
Firmness options within the mattress
Good durability
Excellent motion isolation

120 Night Trial
20 Year Warranty

Save $75 – click HERE
#6

Layla Mattress

Flippable, with two different firmness options
Great for side sleepers
Copper-infused memory foam
Relieving on pressure points

120 Night Trial
Lifetime Warranty

SAVE $100 – USE CODE SLEEPJUDGE
#7

Casper Mattress

Good for hot sleeping
Surprisingly easy to move considering the memory foam
Good motion isolation
Good value

100 Night Trial
10 Year Limited Warranty

SAVE $100 – USE CODE SLEEPJUDGE
#8

Helix Mattress

Customized to your body type, firmness and partners preference.
Comfort kit is a nice option
Very Affordable

100 Night Sleep Trial
10 Year Warranty

Save $100 – USE CODE SLEEPJUDGE100
#9

Loom & Leaf Mattress

High density memory foam increases durability
Great value for quality of materials
Excellent motion transfer reduction
Product breathes well and is effective in temperature regulation

120 Night Trial Period
15 Year Warranty

SAVE $75 – CLICK HERE
#10

Dreamcloud Mattress

Great edge support for people with limited mobility
Zoning and high-dense foams prevent indents, no weight limit works well for those who are heavier
Sleeps cool
Quality materials

365 Night Trial
Everlong Warranty (Lifetime)

SAVE $200 – CLICK HERE
Our Top 10 Mattresses
You may want to read: Adjustable Bed vs Hospital Bed: Which One Will Suit You The Best?
You spend a lot of time on your mattress, so that is why you need to spend a little extra time finding just the right one. A good mattress can make sure that you are able to meet the challenges of each day and unwind when the day is over.
1. Saatva Luxury Mattress
Saatva Overview:
Innerspring Hybrid
3 Firmness Level Options
120 Night Trial
15 Year Warranty
If you have trouble moving around or getting out of bed, innerspring mattresses can often provide the bounce you need for convenience. However, this can often lead to a decrease in motion isolation. Saatva took this problem into consideration when they created their first product using individually-pocketed coils. This helps to minimize motion transfer as they each work independently of one another.
When you purchase the Saatva mattress, you get to choose among plush soft, luxury firm and firm options. If you carry lots of weight or sleep primarily on your stomach, firm could be the way to go.
PROS:
Quality materials
Excellent value for the cost
Easy to move around
CONS:
Some complaints of sleeping hot
2. Avocado Green Mattress
Avocado Overview:
Innerspring  Hybrid
Organic
100 Night Trial
10 Year Warranty
Organic products are trending, and there are lots of good reasons why. Not only can you avoid chemicals, but you also help do your part in preserving the environment. The mattress industry is on-board with this growing trend, and the Avocado mattress is a non-toxic product free from harmful chemicals and synthetic materials that fits the mold. It features 100% natural Joma® New Zealand Wool in the cover that helps your mattress breathe and stay fresh.
Because the base layer of the Avocado mattress is between 36 and 40 pounds, it provides the support necessary for heavier people and stomach sleepers. The mattress helps in keeping the lumbar area from sinking in too deeply.
Pros:
Good breathability
Side handles help move the product
Great combination of bounce and motion isolation
Cons:
Can be a little firm for lightweight people
3. Nectar Mattress
Nectar Overview:
Memory Foam
365 Night Trial
Forever Warranty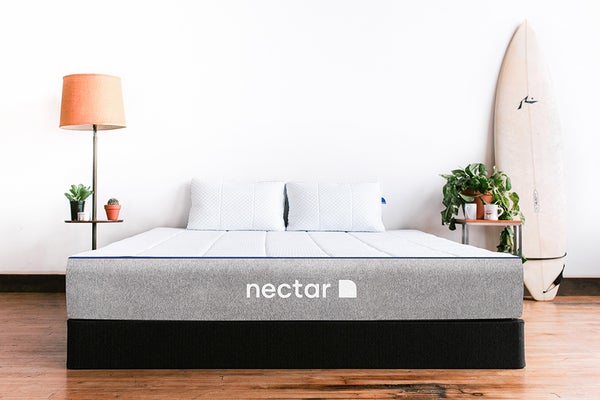 Since Nectar is a little on the firmer end of the medium spectrum, it could be an excellent sleep solution for those who carry a lot of weight. It could also be a good mattress to consider if you spend a lot of time sitting or lying on the edge, but still want the feel of memory foam. While it did take slightly longer than average to eliminate body heat, the Nectar still did pretty well considering the top two comfort layers are comprised of memory foam. This is a rare mattress that offers all of the benefits of memory foam with few of the drawbacks. So don't hesitate to take advantage of Nectar's generous trial period if this sounds like the mattress for you.
Pros
Excellent motion transfer capability
Superior sleep trial and warranty
High degree of bounce for a memory foam product
Good edge support
Good price
Cons
Some complaints of sleeping hot
Some complaints of the product being too firm
4. Novosbed By GoodMorning.com
Novosbed Overview:
Memory Foam
120 Night Trial
15 Year Warranty
The Novosbed by GoodMorning.com is a memory foam mattress with layers that each play specific roles in contouring to the body, distributing weight, and providing support and comfort for the sleeper. This will certainly be one of the most comfortable mattresses you've slept on and it's also a very affordable option. Since the mattress options are a little fit on the firm side, it should be an ideal option for people who are overweight and also for those who are looking for extra motion transfer absorption because their sleeping partner tends to get fussy overnight. This mattress is guaranteed to be your best sleeping buddy for many years to come.
Pros
Good durability
Firmness options and Comfort+ system to get it right is a plus
Excellent motion transfer reduction
Easy to move around to find the best sleeping position
Cons
Low edge support
Some complaints of the product being too firm
Some complaints of offgassing
Some complaints of sleeping hot
5. Zenhaven Latex Mattress
Zenhaven Overview:
Latex
120 Night Trial
20 Year Warranty
If you're looking for a mattress that allows for firmness adjustments, Zenhaven has two firmness options in the same mattress. Those who don't carry much weight or enjoy a plusher product will appreciate the luxury plush setting. If you like it firmer, the gentle firm is just a mattress flip away. This is accomplished by combining two identical inner layers with each outer layer featuring a different indentation load deflection.
Every layer of the Zenhaven mattress is comprised 100% of Talalay latex, and this means your mattress should be very durable. It's made by Saatva, an increasingly popular and reliable online mattress company with a good reputation.
Pros:
All-natural
Firmness options within the mattress
Good durability
Excellent motion isolation
Cons:
Pricey for those on a budget
6. Layla Mattress
Layla Overview:
Memory Foam
120 Night Trial
Lifetime Year Warranty
The Layla mattress was rated the best mattress in a box by Good Housekeeping and the best memory foam mattress of by Forbes. All those accolades even came before the company made their latest wave of improvements! The Layla is an ideal choice for sleepers who have difficulty finding the right firmness level (it comes with two options!), have allergies, enjoy the enveloping feel of traditional memory foam, and have a sleep partner that requires a reduction in motion transfer. Layla have created a sleep product that does an impressive job of accommodating a wide array of sleepers in a single mattress that is somehow available at an affordable price. Definitely a mattress worthy of serious consideration!
Pros
Antimicrobial properties of copper help those with allergies
Flippable
Excellent motion transfer reduction
Lifetime Warranty is reassuring
Antimicrobial properties of copper a plus for people with allergies
Variable support and firmness options work well for the side, back, and stomach sleepers
Cons
Some complaints of hot sleeping
Lacks bounce
7. Casper Mattress
Casper Overview:
Memory Foam
100 Night Trial
10 Year Warranty
If you're a combination sleeper who doesn't have a favorite sleep position, you'll surely enjoy the way the Casper's comfort layers work together to help you move around easily. The combination of support, firmness, and pressure relief in this mattresses is designed to accommodate a wide range of sleep preferences. This makes the Casper an ideal option for sleep partners. It's also highly recommend for anyone who struggles with sleeping hot. If you're particularly fond of the added bounce in traditional innerspring mattresses or are looking for something with natural components, this probably isn't the right mattress for you. Other than that, it's hard to find anything to complain about with this remarkable mattress that is available at a very reasonable price.
Pros
Good for hot sleeping
Surprisingly easy to move considering the memory foam
Good motion isolation
Good value
Cons
Some complaints of inadequate support for heavier people
Not the right mattress if you like the bounce of innersprings
No natural components
8. Helix Memory Foam Mattress
Helix Overview:
Completely Customizable
100 Night Trial
10 Year Warranty
If you have a sleep partner, one of the most difficult aspects of shopping is trying to find a mattress whose firmness accommodates both sleepers. Aspects such as body mass index, height, weight, and personal preference can land the two of you at completely opposite ends of the spectrum. When you purchase the Helix mattress, that's perfectly okay! That's because you take a short sleep quiz when you order. It takes both of your information and preferences into consideration to algorithmically determine optimal firmness. You get the choice of a dual mattress that provides separate firmness on each side of the bed and a blended product that uses data from each sleeper to arrive at a fair balance.
Pros:
Customized to your body type, firmness and partners preference.
Comfort kit is a nice option
Cons:
Thin cover is prone to bunching
9. Loom And Leaf Mattress
Loom And Leaf Overview:
Memory Foam

120 Night Trial

15 Year Warranty
You don't have to spend a fortune to get a quality product that you can expect to last. Loom and Leaf utilizes an online business model to provide their customers with high-quality mattresses at an affordable prices. Many memory foam products feature densities of 3 pounds or less and these companies often rely on consumer ignorance to sell disappointing mattresses at exorbitant prices.
Loom and Leaf is a mattress that you can count on for high density along with a cool night's rest. It's an excellent for anyone who carries a lot of weight and provide the contour necessary to reduce painful pressure points. The Loom and Leaf offers great value and amazing sleeps. What are you waiting for?!
Pros
High density memory foam increases durability
Great value for quality of materials
Excellent motion transfer reduction
Product breathes well and is effective in temperature regulation
Cons
Pricey for those shopping on a tight budget
Some complaints of limitations in firmness options
Read Our Full Loom And Leaf Review
10. Dreamcloud Mattress
Dreamcloud Overview:
Hybrid

365 Night Trial

Everlong Warranty
DreamCloud offers a luxury hybrid mattress at a mere third of the price of the competition. It ranks among the Sleep Judge editorial teams' top mattresses in terms of overall comfort and support. The company really nailed it on the coil, memory foam, and natural latex construction. You'll be impressed by how the mattress is able to offer strong support, yet feel gentle in it's comfort layer. There's so much to love here that it's hard to sum up in a quick overview. Check out our full review if you want the full details. For now, you just need to know that the DreamCloud is easily one of the finest mattresses on the market.
Pros
Layer combination offers excellent combination of comfort and support for the average person
Good solution for sleep partners
Great edge support for people with limited mobility
Zoning and high-dense foams prevent indents, and lack of a weight limit works well for those who are heavier
Sleeps cool
Quality materials
You may want to read: Best Full Mattresses
Our Review Process
Anyone can buy something and write about it, but it takes real dedication and patience to test every little aspect of that product. Our focus is mattresses. We carefully analyze and sleep on the products, and we also perform multiple tests to prove or disprove any claims made. This detailed review helps mattress shoppers figure out whether or not products are suitable for them. We take pride in the work we do to help make the selection process easier for the buyer. So, how exactly do we do it? Keep reading to find out. As our review inventory grows, we may adjust ratings as we progress to better reflect the actual score of the mattresses.
Learn more about: The Do's And Don'ts of Mattress Recycling In California
How And What Do We Test?
First, we take all of the facts about the mattress itself and break it down into sections:
Support
Comfort
Smell
Edge Support
Firmness and Sinkage
Certifications
Durability
Heat Retention
Motion Transfer
Construction & Composition
Cost
User Reviews
Customer Support
Company Reputation
These are just a few things we report to our viewers and readers. So, how do we do it? It is pretty simple, and we break down the science into easily-readable excerpts.
How We Test
Edge Support
We test the edge support by you guessed it… Sitting on the edge and seeing how much it gives.
Smell Or Off-Gassing Period
We sniff the mattress and measure its "off-gassing" period. We then report how long it took for the smell to go away. Sometimes we will come across a mattress that has absolutely no smell.
Durability
We inspect thing like:
Seams
Fabrics
Zippers
Each layer of the mattress
Quality of materials
It's impossible to call something durable after only sleeping on it for a week. This why we dig so deeply into all specs available such as densities to report what you can reasonably expect. A reason why we appreciate mattress companies that openly discuss the materials used.
Heat Retention and Breathability
We use a thermal imaging camera. After laying on the bed in a 64 degree Fahrenheit room, we let the camera roll as it captures how long it takes the bed to return to room temperature. The average is around ten minutes, so this provides users an idea of what to expect. You can see our list of the best cooling mattresses with comparative charts on heat retention times here.
Motion Transfer and Bounce
This involves having one person laying on the mattress and someone else getting in and out of the bed as well as moving around. We also drop a 20 pound ball on the bed to give you an idea of the bounce. Bounce often means more motion transfer, but many products do a great job at overcoming providing good bounce while still providing isolation on the other side of the mattress.
Firmness
Firmness is rated on a scale of 1-10 with 1 being a cloud and 10 being a rock. We report firmness by standing in the middle of the mattress applying 130 pounds to a 9 by 7 inch area. Medium products usually result in sinkage of 6.75 inches under these conditions, and this serves as a baseline to compare firmer and plusher products.
Construction & Durability
This involves the inspection of the entire mattress and its contents if we can get to them. We will unzip the cover, check out the foams, check for loose seams, check for defects in material, and make sure everything works as it should. We also scour user reviews from all over the Internet to see if there is a common issue people tend to have with the mattress. We inspect thing like:
Seams
Fabrics
Zippers
Each layer of the mattress
Quality of materials
It's impossible to call something durable after only sleeping on it for a week. This why we dig so deeply into all specs available such as densities to report what you can reasonably expect. A reason why we appreciate mattress companies that openly discuss the materials used.
Mattress Buying Guide and Types of Mattresses
What Is The Best Bed to Buy?
You wouldn't believe how many different mattress types are on the market today. It makes it almost impossible to choose the best one for you. One may perform well in terms of comfort, but it may not perform well in terms of breathability. So, how would it be possible to know which one is the best? You might not know until you actually sleep on one, so the best I can do is give you a good idea as to what each one has to offer.
This is probably one of the most traditional and common types of mattress. These mattresses are composed of springs and coils that can either be pocketed or part of a single unit. The pocket coils are usually more durable than the single units and they support better, but the single units are cheaper. Innerspring mattresses provide you with a good balance of firmness and comfort while remaining relatively affordable and they can be made with different types of padding on top of the coils such as memory foam, pillow top, or even gel memory foam. These are a good choice for people who are looking for a mattress with a long lifespan and for those who may be heavier and need the added support.
Memory foam became huge in the mattress world in the 90's. These mattresses contour to the shape of your body as you move in your sleep. As you shift throughout the night, the foam makes the adjustment to various pressure points in your body to help minimize pain you may be having. It's also ideal for naturally aligning the spine and promoting proper spinal health.
Unlike traditional memory foam that slept hot, the foams that are made now have different features such as open cell, closed cell, and gel infused. The open cell types allow for better breath-ability and help to draw body heat away from the surface of the mattress. The closed cell foams aren't as breathable and are really just a different kind of regular memory foam. The gel infused mattresses are meant to cool you down as you sleep and they keep your body temperature regulated as well. These usually have a great cooling effect as you get into bed since it has all day to cool down. It's the ideal solution for hot sleepers and for those who suffer from hot flashes. Memory foam mattresses have the ability to be a top pick by just about any sleeper because of the multiple choices in firmness levels and its ability to relieve pressure points- there's one for everybody. Check out some of our best reviewed memory foam mattresses.
These are very similar to memory foam mattress except that they are more firm and supportive. These would be the ideal mattress for those who love to sleep on their backs or suffer from back pain. The latex helps to provide comfort and offers the same adaptive features as traditional memory foam while not being as hot as them. These mattresses are usually constructed of latex rubber and provide a uniform comfort throughout the body.
It sounds like something out of the 80's, but waterbeds are still chugging along contrary to what some people think. Often glorified in movies and media, the waterbed has gained the reputation of being more so a "fun" mattress as opposed to a functional one. However, the modern day waterbed has evolved, with new technologies transforming it into something serviceable and functional.
Sometimes referred to as hybrids, modern day waterbeds have come to combine water chambers with innerspring like padding, thus creating a bed that is durable and supportive. You can get these mattresses in two different forms: soft sided or hard sided. Soft sided means that the water chambers are inside of a foam frame and hard sided means that the water chambers are inside of a wooden frame.
Not to be confused with the air mattress that you blow up to accommodate your weekend house guest, the high-end air bed is designed and made to function as a primary residential bed.
Air beds use air chambers that are covered in padding and that velour-type material. They are made to feel like an innerspring mattress without the coils or the weight. They can be adjusted to different firmness levels and most of them have dual firmness levels. So, if you like a soft side and your partner likes firm, you won't have to fight over the air level anymore. You can adjust it from whichever side you're on.
Have you ever seen how a hospital bed can be moved up and down and the mattress moves with it? The adjustable bed is the same concept. These beds allow you to adjust the angle of the bed to your comfort level. These are ideal for those who may be bed-ridden, have acid-reflux, for people who experience back pain, and it's great for those who have a cold and need to sit up while they sleep so they aren't so stuffy.
The mattresses for these bed frames can be made from latex, memory foam, innerspring, or air to better suite your needs.
Think "futon". A dual-purpose bed is all about function, with ideas of comfort usually taking a relative backseat. Dual-purpose beds are your categorical sofa beds and futons, with its name coming from the ability to be used as a seat in one moment, and a bed in the next.
These are ideal for those who are living in small quarters and can't fit both a bed and a couch, such as studio apartments or "in-law" apartments. Although these seem like the ideal resolution for living in small space, they are not meant to be used as your primary bed. They tend to have very thin layers and weak springs.
Pillow top mattresses are great for those who may have back pain and need an extra layer of cushion. These beds are usually softer than most other types of mattresses. Some types give more cushion and softness at the head of the bed while others are soft throughout the entire mattress.
\Now, just because it's a cheap mattress, doesn't mean it's going to be terrible. You shouldn't have to suffer just because you're on a budget or don't want to fork over thousands of dollars for a top of the line bed. If you are looking for something that's a little more in your price range that will still give you the comfort and support you need without all of the bells and whistles, check out this handy guide.
You may be interested in: Best Time to Buy a Mattress?
How To Buy A Mattress
Figuring out how to buy a mattress isn't difficult, but you should definitely take the time to weigh your options and figure out what the best mattress for the money is. You shouldn't just pick the one that sounds the fanciest and hand over your payment information. Your mattress is an investment, one that you're going to have for a long time, and you need to be sure that it's the right one for you.
Browse Online
Honestly, if you check out our reviews, you can take the time out of going all the way to the store and listening to salespeople ramble on and on about a bed that they've never slept on. You can go through our various mattress ratings and comparisons to get a better idea of how certain ones performed, what they cost, discounts, and you can even check out our a top rated mattresses to get a better idea of what type of bed would be preferred by you.
You may want to read: List of Online Mattress Manufacturers and Top Mattress Manufacturers
Talk To Your Doctor
But why? Certain beds can help with certain medical conditions you may have. Some beds are great for back pain, while others are ideal for those going through menopause. You should also consider your allergies. There are mattresses that have the ability to aggravate your sniffles while others are hypoallergenic and antimicrobial to help keep those dust mites and allergens at bay. You doctor can better point you in the direction of what kind of bed is best for your medical conditions.
Test Out Your Bed
If you make a decision about a mattress but really haven't completely sold yourself on it, most online mattress companies offer sleep trials. These can be up to 120 nights, maybe more, and it allows you to test the bed before becoming fully committed to it. They usually do ask that you give it 30 days, but if at any point after that you just hate the bed, you can have them come get it for you and they will give you a full refund. You can then go on to the next mattress now that you know that comfort level doesn't work for you.
If you decide to buy in a store, do not be afraid to take a lie down on the mattress you are considering buying, although I firmly believe 10 minutes on a bed isn't going to tell you much.  Mattresses have break in periods and that's one of the reasons why we test for 1-2 weeks before making our recommendations.
Ask About Warranties and Guarantees
Warranties are crucial to a new mattress owner. If you're going to be sleeping on it for many years, you're going to want to be backed by some kind of promise or guarantee. I wouldn't go for anything less than 10 years unless it's an amazing deal that you just can't pass up. Most beds will come with some type of money-back guarantee and again trail periods for manufacturers allow more than ample time to make a decision.
These guarantees allow you to "test" the bed with little to no penalty. Before you go all willy nilly and buy the first bed you see with a good warranty or guarantee, make sure you find out what contingencies are attached to it, such as reselling or removal fees that you need to cover, if any.
Before you pick your mattress, make sure you compare the different brands, types, and different types within brands. Just because one mattress by one brand is comfortable, doesn't mean another one by the same brand will be.
It's best to read our reviews about all of the other mattresses and brands before choosing one.
It should go without saying that you should enter the mattress buying process with a firm idea on whether you want a twin or a queen, or king. Nevertheless, still take the time to measure the space limitations of your home before ordering your mattress.  Know ahead of time whether a size upgrade will fit the dimensions of your home, including figures for both frame and bed.
You may want to read: Normal Mattress on a Sofa Bed?
Conclusion
As you can see, there's a lot of information to soak up when it comes to finding the right mattress for you. After working all day and coming home to cook, clean, take care of kids, whatever it may be, the last thing you need is to get into an uncomfortable bed. So, taking that extra time to weigh the factors and options will be 100% worth it in the end. I really hope that you found this guide and our list of top ten mattresses to be helpful in your new mattress purchasing journey.
Frequently Asked Questions
What is the best mattress on the market?
With hundreds of mattress brands, designs and fabrications on the market, it's all about which is best for you. For those who enjoy the bounce of coil-springs, we recommend the Saatva mattress which offers both coil-spring and individually pocketed coil construction. If you're in the market for a hybrid mattress (memory foam plus individually wrapped coil springs), you'll want to look at the Dreamcloud with its patent-pending micro coils for contouring support. And if you want the cooling comfort of memory foam with gel quilting, then you're going to love the Nectar mattress.
What are the top mattress brands?
Taking the mattress industry by storm are a number of new start-ups who market exclusively on-line and can therefore sell to the consumer at a much lower price than many of the brand giants. Without the costly bricks-and-mortar storefronts, the bed-in-a-box brands can deliver top quality, affordable, ergonomic products. They offer generous warranties and lengthy trial periods that extend far beyond those of most standard brands. When it comes to who ranks top, we would recommend you check out names such as Saatva, Nectar, Loom & Leaf, Zenhaven, Casper and Dreamcloud to name a few.
What type of mattresses are used in 5 stars hotels?
Known for luxury-grade amenities, five-star hotels don't scrimp when it comes to mattress quality. Many are now working with mattress manufacturers to develop proprietary designs that are exclusive to their brands, however it's clear that most top hotel brands are going with a high-end hybrid design. These feature superior grade memory foams, gel cooling technology for a cooler sleep as well as a plush pillow-top for an extra level of luxe. Contouring comfort comes from individually pocketed micro-coils that quickly adapt to the form of the sleeper as well as coil-spring construction for long-wearing support.
Are spring mattresses better than memory foam mattresses?
It's down to personal preference. A good quality, individually pocketed coil-spring mattress will last about 10 years, can stand up to wear and tear, and deliver an extra little bounce which for some, can make it easier to move around on. It can also be a more affordable option over a top-quality foam mattress. A good memory foam mattress will last approximately the same period of time, but it offers better ergonomic support and alleviates painful pressure on heavier joints. It will also conform to your contours to provide support in vulnerable areas like the lower back.