Memory foam has been one of the most novel inventions of the 20th century when it comes to the bedding industry – being able to react to heat and pressure to mold its shape, viscoelastic immediately lends itself for use in the comfort layers of mattresses that want to make conformity and pressure relief a major selling point.
Given the rather hi-tech R&D involved in the material's conception, memory foam mattresses (at least the ones that were any good) traditionally had exorbitant price tags that were not accessible to the average consumers. Ever since the dawn of e-commerce though, things have changed with dozens of online selling viscoelastic foam mattress brands springing up.
Loom-and-Leaf and Nectar are two of the more well-known brands of this sleep revolution, offering premium quality viscoelastic bedding at a much lower price than what traditional big-name brands demand. As one may expect though, there are nuanced differences between the two that make them suitable for different applications, and this Loom and Leaf vs Nectar comparison sets out to explore precisely this.
Loom and Leaf Breakdown
The Loom and Leaf is made completely from foam and shrouded in a cotton cover – a significant part of its foam composition is memory foam.
Click for price
Construction
Cover
The mattress's organic cotton cover lends it an understated yet sophisticated aesthetic appeal, and it is soft and breezy to the touch too. Right underneath this cover is a layer of padding that separates it from the actual mattress layers. The cover is well-fitted, meaning that there is no chance of any bunching up if you toss and turn in sleep.
First Layer
This layer is comprised of 4 lbs/cu ft gel-swirl viscoelastic foam at a depth of 2 inches. It yields plush initial contouring for your sleep posture, relieving your pressure points in the process. However, the gel-swirl infusion also lends it some heat dissipation capability which counters the inherent heat retention problem of regular viscoelastic.
Moreover, the layer has a convoluted design that allows for improved airflow that further enhances the cooling. The core of your body's heat is centered in your lower back, and for this, the manufacturer places a gel panel that comes into contact with this region to ensure dedicated thermal regulation.
Second Layer
A denser 5 lbs/cu ft viscoelastic layer with a depth of 2.5 inches is introduced next – it increases the contouring ability of the mattress but simultaneously adds a bit more stiffness so that your body doesn't sink into this layer as much as it did in the first one.
Third Layer
A transition foam layer follows – these 2 inches of firmer foam create a smooth shift from the plush response of the upper layers to the deep compressive support offered by the lower polyurethane foam layer.
Fourth Layer
A 5.5-inch deep high-density polyurethane foam slab serves as the tough support core of the Loom and Leaf: it pushes back against your body to correctly align your spine and sustains its weight through the night once you have settled down comfortably in the upper comfort layers.
Firmness and Feel
Comfort and Support
There are two models based on firmness for the Loom and Leaf:
Relaxed Firm

This model creates a middle ground between plush viscoelastic comfort and the compressive support of the polyfoam support core. In doing so, it yields a medium-firm response that adapts to your profile just like you'd expect a memory foam mattress would but doesn't envelop you overmuch. This makes it appealing to the vast majority of sleepers.

Saatva(the parent company of Loom and Leaf) does not reveal this model's ILD rating because they don't want others creating imitations of it, but they do rate it at 5-7 on their own 1 (extremely soft) to 10 (extremely hard) firmness scale – an expected value for a medium-firm product.

Firm
This model places less emphasis on the plush, cushioning response of the upper memory foam layers, instead, creating a stiffer feel that has more support than comfort- be prepared to feel less of the 'hugging' feel than what you would expect from a typical viscoelastic foam product.
Edge Support
The Loom and Leaf has quite a decent edge support for an all-foam mattress that incorporates memory foam in such copious proportions. This is likely due to the extra-firm layer of HD polyfoam that forms the base of the mattress- it prevents your backside from sinking any further beyond a certain point when you're sitting on the edge of your bed.
Cooling
As a result of the multiple heat dissipation features that are present in its construction, the Loom and Leaf offers exceptionally good cooling for a memory foam mattress. Obviously, there will be some heat retained because of all the viscoelastic foam used, but it is markedly less than the market's average.
Motion Transfer
The motion isolation capability of the Loom and Leaf is on point – as is the norm for a memory foam product since the material is well known for its ability to cushion major impacts (it was intended to be used in NASA spacecraft after all!), and thus, it is able to effectively block out any sudden movements that you or your partner make while sleeping.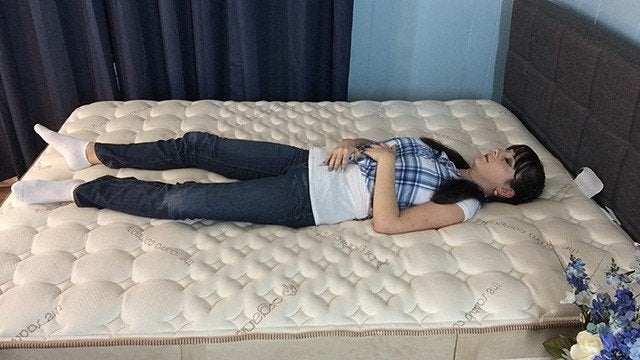 Unique Features
Typical memory foam response
The Loom and Leaf (in particular its flagship medium-firm model) makes for a signature memory foam response- in other words, a lightly supportive yet highly conforming bed that has lots of pressure relief. This differs from the rapidly stiffening yet initially contouring behavior of the Nectar (discussed in detail below).
Of course, the Loom and Leaf has its own firm variant, but again, it can't quite capture the swift transition from conformity to contouring like how the Nectar pulls it off (it closer though).
Dual firmness options
The Loom and Leaf has more freedom of choice – naturally – since there are two firmness levels to choose from as compared to the Nectar, which compels you to go with a single option for better or for worse.
Cotton cover
The organic cotton cover of the mattress gives out a traditional, luxurious aura that cannot be captured by any other material either it be natural or synthetic.
Cool for a memory foam mattress
As discussed in the previous sections, the multiple cooling features of the Loom and Leaf do a superb job at doing away the most prominent problem ascribed to viscoelastic- it heats up as you continue to sleep in it. This is in stark contrast with many of its immediate competitors, including, might I add, Nectar.
Click for price
Nectar Breakdown
The Nectar incorporates gel memory foam in its comfort layer with adaptive hi-core foam and a breathable base layer to achieve a singularly balanced mattress. These layers are encased in a breathable fabric cover.
The highlights of the product are a remarkably small price tag (even for an online selling mattress), and it has a similarly commendable trial and warranty periods.
Click for price
Construction
Cover
The Nectar mattress ports a Tencel® fabric cover- this is a soft natural fiber derived from eucalyptus pulp that also comes with the inherent benefits of breathability, absorbency, and resistance to microbial growth.
In other words, the material ensures a soft contact when you lie on the bed, while also providing immediate heat dissipation and keeping your mattress fresh for a long time. The best part is that the manufacturer promises to send you a new cover at no charge should you need one – all you need to do is call!
First Layer
The topmost layer of the Nectar is comprised of 1" of plush 14 ILD quilted gel memory foam. This viscoelastic gives the mattress a softly adaptive initial response while the quilting negates some of the sinking that is usually generated by viscoelastic foam. Moreover, the gel infusion facilitates thermal dissipation.
Second Layer
The second layer is comprised of 3" of marginally stiffer 15 ILD gel memory foam that optimally distributes the weight of your body and assumes the shape of its contours to yield pressure relieving comfort. The particular foam that Nectar uses is called Lush Foam. It is one of the best quality gel-foams available and is usually employed in the medical industry!
Third Layer
Half an inch of adaptive hi-core viscoelastic makes up this next layer – this is a sturdy, heavy-duty foam that contours to your body but doesn't get distorted even if you're on the heavy end of the weight scale. In a sense, it serves as a transition point between the soft upper layers and the firm base.
Fourth Layer
The base layer is a 5.5" polyurethane foam affair, serving to reinforce the conforming nature of the mattress with enough supportiveness that your spine is kept properly aligned and your body doesn't sink all the way in. This layer has air channels built into its construction to enhance airflow.
Firmness and Feel
The Nectar has a single firmness level – slightly inclined towards the firm side of the scale, but it is adequately comfortable and supportive for all types of sleepers.
Comfort and support
The top two layers of the mattress are quite plush at an ILD rating of 14 and 15 respectively. These are responsible for pressure relief and contouring as is to be expected from viscoelastic foam. However, the next two layers have ILD ratings of 45 and 55 respectively, and this rapidly increases the firmness of the Nectar's response so that your body is amply supported – noticeably more so than is the norm for memory foam products.
Edge support
A consequence of the unusually high stiffness of the bottom two layers is excellent edge support- sitting on the edge of the bed, you will notice that the Nectar holds you up quite effortlessly. This is impressive for an all-foam mattress that makes such liberal use of viscoelastic foam.
Motion transfer
As is the norm with memory foam mattresses, the Nectar has strong motion isolating capabilities thanks to the dead, sluggish response of the material that tends to absorb virtually all impacts as soon as they occur on the surface of the mattress.
Here is a very brief visual demo of the dead response I referred to:
Cooling
The Nectar falls victim to one of the most frequently reported problems of memory foam: it retains heat. Our tests indicated that it took longer than average to return to room temperature after being laid on for a preset amount of time. While the delay isn't abnormally high, it may be enough to be noticeable for people who are sensitive to temperature rise in their sleep.
Unique Features
Viscoelastic conformity with ample support
As previously described, the Nectar combines an extremely plush comfort layer with an extremely stiff support layer – the result is a relatively unorthodox viscoelastic foam mattress that not only contours to the posture you assume while you sleep, but it also offers a higher degree of support than is usual – this means you won't experience sinkage even if you're a bit overweight.
This indicates a great deal of confidence for Nectar on part of the manufacturer and should nullify some of the concerns about its lower price translating into lesser quality products, especially when combined with the fact that the user feedback for the nectar has been stellar.
I digress though – ultimately, this longer trial period has a more practical benefit. If you're uncertain about the claims of the Nectar, you can try it out for a whole year and get your money back if you like it in the end.
Low cost
The price of the Nectar is significantly less than that of the Loom and Leaf, and barring the heat retention issue, it is still able to offer comparable value to the latter. If you factor in the unusually generous coupon code discount, it is evident that the Nectar offers high-end memory foam pressure relief at a budget-oriented cost.
The use of this proprietary fabric in the Nectar's cover means that you sleep on a natural surface that is at least as soft as organic cotton and is even more breathable and arguably durable. It also has inherent microbe repelling qualities, which translates into less odor development in your mattress after prolonged use.
There is also the fact that the manufacturer offers a free replacement cover on-demand – impressively generous given that they already price their product lower than the market average.
Industry-leading trial and warranty policy
The Nectar comes with an incredibly generous 365-day trial period and a lifetime warranty – compare this to the Loom and Leaf's 120-day trial period and 10-year warranty, keeping in mind that the Nectar is a lot cheaper than the Loom and Leaf!
Click for price
Which One To Get?
Loom and Leaf
Click for price
The Loom and Leaf may be the better choice in these scenarios:
You seek a typical memory foam experience without usually heating up:Minus the heat retention concerns thanks to the multitude of heat dissipation mechanisms it contains, the Loom and Leaf's medium-firm model offers an archetypically viscoelastic response that is extremely contouring and pressure relieving, while offering just enough support to prevent the average weighted individual from sinking in excessively.
If you're bulky, you can get a bit more stiffness from the firm variant, but I would strongly recommend considering the more noticeably firm Nectar if you're not troubled by a bit more heat retention.
You want more choice: The Nectar mattress is available in a single rather firm model that might not appeal to some side sleepers who are on the lighter side of the weighing scale. The medium-firm variant of the Loom and Leaf, on the other hand, is much more yielding, right down to its support layers, so it may be a better option if you match this description.
You prefer plain natural cotton over modern fabrics: If the idea of sleeping on a mattress covered in a new-fangled fabric cover does not sit well with your traditionalist predisposition, the pure organic cotton cover of the Loom and Leaf should put your concerns at ease.
Nectar
Click for price
You could consider the Nectar if:
You want lots of support from a memory foam mattress: Those who have used viscoelastic foam mattresses before will know that this is not an easy thing to ask- viscoelastic foam is soft and pliable by its very design, which is why most mattresses that incorporate it have lots of cushioning but usually leave something to be desired in terms of support.
This is most pronounced for stomach sleepers as well as bulkier individuals – so if you're part of this demographic and have held yourself back from getting a memory foam mattress fearing that it would not be able to sustain your weight, the Nectar may be worth a look.
You sweat a lot while sleeping: The Tencel fabric used in the mattress' cover is both highly absorbent and bacteria repellent, so it'll be able to wick away your sweat to let you sleep comfortably. Moreover, the anti-bacterial properties will prevent the development of odor in your mattress from the sweat you exude.
You're on a budget: As I've stated multiple times above, the Nectar is far cheaper than the viscoelastic foam products it competes with in terms of feature value – so if you're on a budget and don't have any problem with a little bit of heat retention, it is definitely a good choice given the lasting comfort and support it promises.
You want a longer trial period and warranty: The yearlong trial that the Nectar includes is ideal for people who aren't sold on the idea of a viscoelastic foam bed and want to give the mattress a try to see if they like it or not, risk-free.
A lifetime means that the manufacturer is confident enough in the durability of their product that they are willing to stand by it for as long as it takes – if you seek this kind of reassurance from the goods you purchase, then the Nectar is hands down the mattress to go for.
Having reached the end of this comparison between two modern high-end memory foam mattresses, you will probably have learned that the subtle differences in their designs can have meaningful implications for you as the sleeper. Hopefully, you will also have an easier time now choosing between the two.
Remember to share this with friends who are looking into a new mattress, and if you have any more questions or would like to give feedback, the comments section is the place to voice them!
Loom and Leaf
Nectar
Layers Used

100% organic cotton cover
2" 4lbs. convoluted memory foam
with spinal gel panel
2.5" 5lbs. memory foam
2" transition foam
5.5" HD support foam

Tencel Fiber Cover
1" Quilted Gel Memory Foam 14 ILD
3" Gel Memory Foam 15 ILD
0.5" Adaptive Hi-Core Memory
Foam 45 ILD
5.5" Breathing Base Layer 55 ILD

Height
12 inches
11 inches
Firmness
Medium-Firm, Firm
Medium-Firm
Motion Transfer
Minimal
Minimal
Breathability
Slightly above average
Slightly above average
Trial Period
120-day
365-day
Warranty
15-year
Lifetime
Pricing (Queen)
$1,699
$795
Shipping
Free across the US
Free