While you should seek out medical attention if your back pain is chronic or debilitating you from living life to the fullest, there are also other steps you can take to mitigate this all too common problem. A great step to take is to analyze your current mattress. There's a good chance it's failing to offer you the components you need for your upper or lower back pain. Finding a product that will properly align your spine and provide adequate support and comfort for you can make a significant difference.
We have tried and tested out some of the best rated mattresses for back pain, so let's explore some viable options that could help you alleviate some of these symptoms and live a more comfortable life.
What Causes Back Pain?
Before we take a look at the best mattresses for back pain sufferers, first let's take a moment to understand some of the common factors that cause it to begin with. There are numerous factors that contribute to back pain, and any or all of them could very well be contributing to the symptoms you're suffering with.
#1. A Widespread Problem
First and foremost, understand that you aren't alone. In fact, it's estimated that 80 percent of Americans will suffer from lower back pain at some point in their lives. Furthermore, approximate costs associated with this problem are around $100 billion every year. This includes lost wages and productivity. Not only can it cause a decrease in your overall quality of life, but it can also debilitate you from functioning on the job if you have to do heavy lifting or stand on your feet for long periods of time. Let's take a look at some common contributing factors that may apply to you.
#2. Temporary Pain From Sprains and Strains
The majority of back pain sufferers have experienced a sprain or strain that causes their symptoms. In this situation, symptoms typically last around one to two months. However, depending on the severity of the contributing accident, you could experience periodic flare-ups for many years to come. One of the primary catalysts for these random occurrences is sleeping on the wrong mattress.
#3. Degenerative Disc Disease
Degenerative disc disease can develop as a natural part of the aging process or, less commonly, from trauma. When the discs located between the spinal column lose their elasticity, it causes a loss in their ability to provide proper cushioning. As a result, you will notice symptoms such as stiffness and lower back pain. While it typically does not get worse over time, it's still painful, and you can typically expect flare ups throughout your life.
Surgery is not a typical solution for DDD. However, there are many solutions commonly utilized including:
Over-the-counter drugs
Short-term prescriptions
Muscle relaxers
Massage therapy
Epidural steroid injections
A new mattress offering better support
#4. Disc Ruptures
Between the vertebrae of the spine are discs that act to relieve pressure on your spinal nerves. When they become compressed and rupture, back pain results as the increased pressure is not natural. Numbness in the legs and general weakness are also common.
While surgery can help in this situation, there are many other solutions that are typically applied first such as pain medication and physical therapy. Finding the right mattress can also eliminate the increased pressure and help you get the proper sleep to help the body rejuvenate.
#5. Spinal Compression Fractures
Spinal compression fractures account for around five percent of lower back pain occurrences, and the most common type of fracture stems from osteoporosis. While serious cases often do require surgery, more conservative measures are typically successful in providing the relief sufferers are looking for. One such measure is to find a mattress that will offer proper support for the fractured area.
#6. Spinal Stenosis
Patients who experience a narrowing of the spinal column suffer from what's known as spinal stenosis. Much like spinal compression fractures, this causes increased pressure on the spinal cord and nerves. Aside from back pain, those who suffer with this problem often experience numbness and weakness in the lower extremities. Most patients are able to alleviate the pain using over-the-counter drugs and muscle relaxers, and finding a more supportive mattress can also help. Only in the most serious cases is surgical intervention necessary to lead a normal life.
#7. Sciatica
The sciatic nerve is the largest nerve in the human body, and it runs from the buttocks down the back of the legs. When the root of the lower lumbar and lumbosacral spine is irritated, sciatica results, and it can occur due to injury or even while sitting for long periods of time. Sciatica carries with it a number of symptoms including:
Numbness
Weakness in either leg
Pain in buttocks, hip, and/or lower extremities
Pins and needles feeling in the legs
#8. Spondylolisthesis
Spondylolisthesis is yet another cause of back pain, and it results when a vertebra slips out of place and causes the spinal nerves to become compressed. While it typically develops as we age, it can also be caused due to an accident. An increase in exercise and activity can help alleviate symptoms over time along with the use of over-the-counter drugs. Seeking out the best mattress for back pain for the patient can also offer much-needed relief.
#9. Scoliosis
When the spine begins to curve to either side, it's crucial the patient maintains proper posture to stop the progression of this unnatural curvature. Scoliosis commonly impacts children between the ages of 10 to 16, and girls are more likely to be impacted than boys.
While braces can be effective in helping keep the spine properly aligned, it's important to ensure that proper alignment is also maintained during sleeping hours. Since we spend around one third of our lives sleeping, it only makes sense that the right mattress can help reduce the progression of scoliosis.
10. Abdominal Aortic Aneurysm
Atherosclerosis is a condition that develops when the arteries harden due to plaque buildup. When not properly addressed, this can lead to an aneurysm. When the aneurysm occurs in the area of the aorta in the abdomen, it is known to cause back pain. Those at the highest risk are men over age 60 who smoke and/or have high blood pressure.
While surgical intervention is often necessary, there are other things you can do to reduce the symptoms, and finding the best bed for back pain can offer the relief you need as you try to get a good night's rest.
11. Kidney Stones
It's estimated that around 13 percent of men and 7 percent of women will develop kidney stones in their lifetime, and they develop when substances including calcium, oxalate and uric acid stick together in the urinary tract. The passage of kidney stones is highly painful, and many people have to patiently wait until this naturally occurs. However, surgical intervention is also a possibility. In the meantime, however, the best mattresses for back pain could provide the relief you need to get proper sleep while suffering from this problem.
12. Shingles
If you've ever had chicken pox, then the shingles virus is already in you, and you could develop this condition at any time. While the chances of this happening are low, those who are affected often suffer with back pain as a result. The condition is very painful and notable for the development of a skin rash. You should definitely consult your doctor to ensure you follow the best medical protocol for your situation. However, the proper mattress can help alleviate associated back pain if this is a problem from which you suffer.
Back Pain While Sleeping
It's possible you don't suffer from any of the above conditions yet still deal with back pain while you sleep. If this is the case, there's a good chance your mattress isn't offering the right combination of comfort and support for your unique needs. While back pain and sleep problems are linked, the connection isn't well understood in the scientific community. However, according to the November 2016 issue of the Annals of Behavioral Medicine, there is a noted relationship between a good night's rest and your mood, overall functioning ability, and back pain severity.
While it's true that we don't yet know all the ins and outs of the connection between back pain and sleep, there are a few things that have been discovered that can help you get the most restorative rest while suffering with back pain.
The Sleeping Position to Avoid
There are various areas of the body that can develop pressure, and the best orthopedic mattress for back pain will take measures to ensure these areas are properly supported to reduce back pain. Just some of these areas include:
Neck
Shoulders
Hips
Lower back
Knees
In order to best ensure you don't develop too much pressure in these areas, the primary sleeping position you want to avoid is stomach sleeping. This is because the natural curve of the spine is flattened in this position, and this only adds strain on the muscles in your back. Furthermore, stomach sleeping requires you to rotate your neck, and this very often can result in upper back and neck pain.
Positions That Can Alleviate Back Pain
So we've established that sleeping on your stomach isn't the best idea if you suffer with back pain. There are other positions you should consider that can help you not only find the comfort you need to fall asleep but also much needed relief. It depends on your preferred sleeping position.
If you like to sleep on your back:
Consider placing a pillow under your knees. This will help promote natural spine curvature.
If you're a side sleeper:
Try placing a pillow between your knees and draw them up toward your chest.
If you have a strong preference for sleeping on your stomach, there is a technique you can consider that will help alleviate your pain. Place a pillow near your lower abdomen as this can ease the strain on your back.
These are all great ways to help reduce back pain and get a more restful night's sleep. Try each out even if you don't normally prefer certain sleeping positions. You may be surprised at what a slight tweak could offer in the achievement of the support that works for you.
Best Type of Mattress for Back Pain
There are hundreds of mattresses on the market, and each company has taken measures to address certain aspects of sleep. From temperature regulation to motion transfer, pressure relief and more, you should try to find one that addresses the specific problems you may suffer with. If you suffer with back pain, it's likely most noted in either the upper or lower portion of your back, so let's take a moment to discuss what the best mattress for back pain is in your specific situation.
Upper Back Pain
Upper back pain is often a symptom that develops when you tend to assume a hunched position whether you are standing or lying down. In this situation, you may want to seek out a mattress in the medium firmness range to help promote better alignment and support and prevent the exertion of additional back pressure that firm products can cause. Since upper back pain often involves the neck, you should also consider your pillow. Ideally, you want one that aligns the neck and spine over the shoulders. A roll-shaped pillow placed under the neck can be the perfect supplement.
Lower Back Pain
As with upper back pain, medium-firm products can also offer the alleviation necessary for good sleep with lower back pain as they are known to reduce pressure points. You should also consider finding a product that incorporates zoning. This provides different levels of support where you need it and helps promote proper spinal curvature to reduce aches and pains common in the back and other areas of the body.
What to Look for in a Mattress for Back Pain
We've pretty well established that a firm product isn't the best option whether you suffer with upper or lower back pain. There are a few other factors to consider in finding a good mattress for back pain:
Specific features mentioned on the website. For example, Bear mattress offers Celiant technology, which we'll discuss further in a moment.
If you are primarily a side sleeper, look for a product with slight softness to properly cushion the hips and shoulders.
Memory foam can help provide proper contour, and there are many products on the market which address the common problems in traditional memory foam with sleeping hot and sinking in.
Consider durability. While you may find a product that alleviates your pain in the early stages, you may find yourself disappointed when it begins to degrade quickly.
Mattress Recommendations for Upper and Lower Back Pain
Now that you have a better idea of the root of your pain as well as some considerations to make as you shop for the best mattress for your situation, let's take a moment to look at some mattresses for back pain reviews. We have hand-tested these products and feel they could be a great solution to reduce pressure points, offer proper contour, and relieve your pain so you can sleep through the night and face the day with a new charisma.
1. Avocado- Best Innerspring Mattress for Back Pain
SPECS
Warranty: 10 Year Limited, Pro-rated
Layers:
½ inch Joma® New Zealand Wool
4 inches Natural Dunlop Latex, eco-INSTITUT certified
8 inch 3 zone pocketed coil system
Weight: Twin- 59 lbs.
Full- 82 lbs.
Queen- 97 lbs.
King- 123 lbs.
California King- 122 lbs.
Innerspring technology has come a long way. Many associate these sleep products with high motion transfer and squeaking. In fact, many of the older innerspring mattresses were actually counter-productive to the alleviation of back pain. However, when you consider the Avocado mattress, you will find that things have come a long way.
For starters, the coils float independently from one another, and this significantly reduces motion transfer. Furthermore, its ½ inch of 100% natural Joma® New Zealand Wool and 4 inches of 100% natural Dunlop latex adds excellent comfort and indicates good durability. Best of all, this product incorporates the use of strategic zoning to reduce pressure points that can exacerbate back pain.
Pros
Cover is durable and aesthetically pleasing
Includes convenient side handles to help move the product around
Zoning reduces pressure points
Great combination of bounce and motion isolation
Cons
Can be a little firm for lightweight sleepers
2. Loom and Leaf- Best Memory Foam Mattress for Back Pain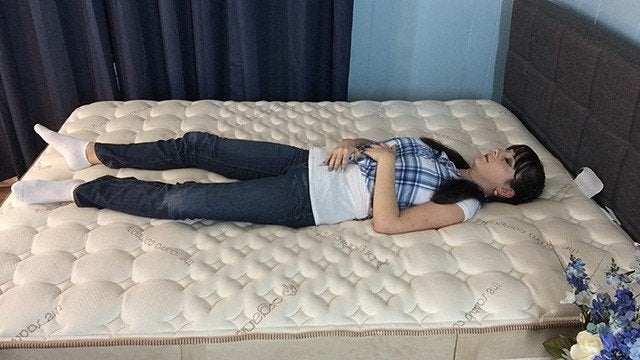 SPECS
Warranty: 15 Years
Layers:
1 inch organic cotton cover
2 inches convoluted 4 lb. top memory foam
2 ½ inches 5 lb. dense memory foam
2 inch transition loft pad
5 ½ inch high-density foam core
Weight: Twin: 140 lbs, Twin XL: 147 lbs, Full: 175 lbs, Queen: 184 lbs, King (Split): 147 lbs per piece (2 pieces), Cal King (Split): 140 lbs per piece (2 pieces)
The Loom and Leaf mattress by Saatva features layers of memory foam with densities between 4 and 5 pounds, and this is optimal and indicates great durability. Unlike traditional memory foam where sleepers tend to sink in and sleep hot, Saatva has taken measures to reduce these problems. First of all, the 5 ½ inch high-density foam core offers great support, and the 4 lb. top memory foam layer uses a "gel-swirl" construction technique that provides even temperature distribution. I found that the 2 ½ inch layer found at the heart of the mattress offered deep contouring support, a great feature for anyone suffering with lower or upper back pain.
Pros
Good durability expectations
Excellent value for the quality of materials received
Ideal motion transfer isolation
Breathes well and allows sleepers to rest cool
Cons
Can be a bit costly for those on a tight budget
Some complaints of limitations in firmness options
3. Spindle- Best Latex Mattress for Back Pain
SPECS
Warranty: 10 year limited
Layers:
3 inches Continuous Pour Dunlop Natural Latex
3 inches Continuous Pour Dunlop Natural Latex
3 inches Continuous Pour Dunlop Natural Latex
Weight: Not Available
If you're looking to make your next mattress purchase a long-term one, latex is always a good option to consider. In general, natural latex products are highly durable, and the Spindle features the ability to mix and match your firmness level to meet your preferences. This is because, when you receive the product, the three latex layers are placed into the cover by you. This way, you not only can switch up your firmness in the comfort layer, but you can also replace pieces following normal wear and tear and continue to enjoy the product without having to shop for a whole new product.
Pros
Excellent combination of comfort and support to relieve back pain
Customizable
Utilizes natural resources, which is good for the environment and promotes durability
Motion isolation high, which makes it a good choice for sleep partners
Cons
Edge support is low, which is common in all-latex products
Heat transfer capabilities slightly lower than the average I've tried out
4. My Green Mattress- Best Organic Mattress for Back Pain
SPECS
Warranty: 10 Year Limited
Layers:
½ inch organic cotton and natural wool quilted cover
3 inches natural Dunlop Latex
8 inch pocketed coil innerspring unit
Weight: Twin: 70 lbs, Twin XL: 75 lbs, Full: 95 lbs, Full XL: 100 lbs, Queen: 110 lbs, King: 135 lbs, California King: 140 lbs
While some people don't like all-latex products as they can lack in areas such as edge support, My Green Mattress offers a supportive continuous coil construction innerspring unit that is combined with a three-inch layer of natural Dunlop latex that I felt married comfort and support very well. Although an innerspring unit is used as the base, the unit still features low motion transfer, and the combination of strong support with the latex can offer the pressure relief you need. It conformed well with the contours of my body. Plus, since this mattress is organic, it can be a great choice for those who also suffer with skin conditions and allergies.
Pros
Low offgassing
Easy to get in and out of bed without disturbing your partner
Great value for the price
Offers good support for back pain sufferers who carry a lot of weight
Cons
Some complaints of mattress being too firm
5. Zenhaven- Best Zoning for Back Pain
SPECS
Warranty: 20 Years
Layers:
1 inch organic cotton cover
1 ½ inch 100 % Talalay Latex
3 inches 100 % Talalay Latex
3 inches 100 % Talalay Latex
1 ½ inch 100 % Talalay Latex
Weight: Not available
There are areas of the body which carry more or less weight, and it only makes sense that this can cause pressure points when we sleep on a mattress with a consistent firmness throughout. This can make back problems worse, and Zenhaven by Saatva has taken measures to offer you relief from this problem. Their product features a proprietary 5-zone design, and it's created to provide firmer support in the right areas in order to most efficiently align the spine. Furthermore, you get the advantage of two firmness options in a single product. This is made possible with a simple mattress flip, allowing you the choice of luxury plush or gentle firm.
Pros
Mattress is all-natural
Quality materials at a good price
Great motion transfer reduction
Sleeps cool
Cons
Can be expensive for those on a budget
Product is a little heavy
6. Helix- Best Customizable Mattress for Back Pain
SPECS
Warranty: 10 Year Limited
Layers:
Proprietary Helix Dynamic Foam
Pocketed microcoils
High-grade polyfoam base
Weight: Twin: 45 lbs
Twin XL: 50 lbs
Full: 65 lbs
Queen: 75 lbs
King: 90 lbs
California King: 95 lbs
We all have our own preferences, and no two people are the same. Helix understands this, and that's why they offer their customers the ability to incorporate their own unique specifications to help create the best product to meet their needs. When you order, you'll be asked a series of questions including height, weight, and firmness preferences. The end result is a mattress designed to best fit their needs. Best of all, sleep partners can take advantages of dual and blended products to help them arrive at a mattress that caters to the needs of each person.
Pros
Known to help relieve back pain
Quick and efficient customer service
Options available to best accommodate sleep partners
Low offgassing
Cons
Some complaints of mattress being too firm or soft
Cover is thin and tends to bunch up
7. Bear- Special Technology for Back Pain
SPECS
Warranty: 10 Year Limited
Layers:
1 inch Cool Graphite-Gel Memory Foam
2 ½ inch Quick Response Foam
6 ½ inch high-density foam base
Weight: Twin: 50 lbs
Full: 50 lbs
Queen: 60 lbs
King: 70 lbs
California King: 90 lbs
It was the primary goal of Bear to develop a mattress that helped cater to the unique needs of athletes. That's why they spent years coming up with a product that helps ease aches and pains and counters the buildup of lactic acid. Included in their design is the use of Celliant technology. This has proven to help those suffering with back pain to experience a reduction in overall discomfort and a more positive sleeping experience.
Pros
Celliant cover is a step above
High quality materials for a good price
Low offgassing
Cons
8. Aveline- Best Budget Mattress for Back Pain
SPECS
Warranty: 1 Year Manufacturer
Layers:
2 inches gel-infused memory foam
6 inches high-density support foam
Weight: Twin: 31 lbs
Full: 40 lbs
Queen: 47 lbs
King: 63 lbs
Memory foam is well-known to help alleviate back pain, and this is highly attributed to the fact that it conforms so well with the body. However, you don't have to spend a fortune to take advantage of this popular material. Its universal comfort level is designed to offer a sleeping surface that's not too soft and not too hard. Medium firmness is accommodating for the majority of shoppers.
Pros
Low motion transfer
Low cost
Easy to clean
Sleeps cool
Cons
Slight offgassing
Low durability expectations for those who carry a lot of weight
Lacks in edge support
There is a Better Night's Rest for Those With Back Pain
While those with back pain severe enough opt to seek medical attention when they don't know where else to turn, a good first line of defense to have in your arsenal is the right mattress. As you can see, there are many great products on the market with a variety of mechanisms to help the sleeper enjoy a higher degree of back support and comfort. From zoning and firmness options to memory foam contour and more, there are a variety of combinations out there to make it easier than ever to find the product best suited for your specific needs.
With the ability to shop online, it's also a breeze to pinpoint a new sleep product best suited for you. No more pushy salesmen and running around from town to town for the best mattress for back pain. The mattress industry isn't one known for the provision of a one-size-fits-all product. It's up to you to know what features are most compatible with your body. By better understanding your options, you are one step closer to discovering that there is a better night's rest possible for those with back pain.