SafeRest specializes in mattress covers, encasements, and protected mattresses, helping to ensure your sleep is restful and not filled with the unpleasantness of dingy and smelly build-up on your mattress. And when compared to other protectors in its category, it definitely holds up. Let's discuss the SafeRest mattress protector, my personal testing of the product, and how well it holds up to its promises. If you have allergies, pets with long hair or dander, and/or growing children, you may want to invest in a product that will protect your mattress. Consider the bedbug epidemics that occasionally break out in apartments, or the way things like dead skin can actually build up and leave behind a smell. It's important to use something to protect your mattresses to extend their lives as long as possible.
Trying to find the right product to meet your needs can be frustrating without some guidance. However, I've taken the time to test and review the SafeRest Mattress Protector to get you a better breakdown of the product and how well it works. Let's take a look!
Breakdown of the SafeRest Premium Mattress Protector
Having the SafeRest mattress protector gives you an added level of comfort not available through most mattresses. By capturing things like dead skin – which is a breeding ground for dust mites – and liquids (sweat, urine, and other things that don't particularly have a great aroma and can stain the mattress), the protector literally stops the decay in its tracks.
My first impressions were good, considering that it had a full replacement 10-year warranty. That's longer than a mattress is supposed to last! On top of that, it's machine washable with no vinyl or PVCs and the materials are registered as a class 1 medical device with the FDA. Certainly, I was pumped to try the cover out!
This is significant, since a Class I medical device is defined as "an instrument, apparatus, implement, machine, contrivance, implant, in vitro reagent, or other similar or related article, including a component part or accessory" that's recognized as a pharmaceutical or supplement, intended as a diagnoses, cure, or preventive treatment of a disease, with the intention to affect the structure of a human or animal body." That means that the FDA has literally determined that the SafeRest mattress protector is at least a means to treat a disease, such as asthma and allergies.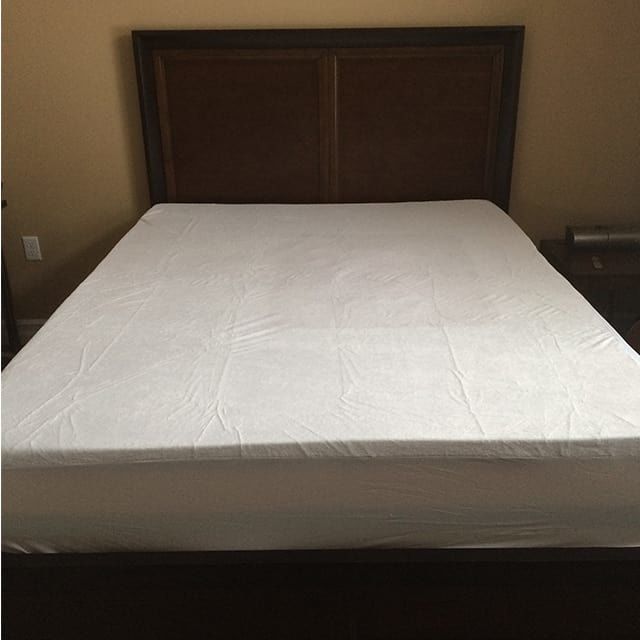 Features & Benefits
I was anxious to get started with the review of the product, so I put the protector on my bed and sat down to look at the SafeRest online. The site was sleek and easy to use, with lots of videos and other visual images to help explain the product more thoroughly. Third party sellers had high ratings for it. I was pleasantly surprised when I lay down on the mattress, complete with cover. There were no squeaks, no discomfort, and it was soft.
I particularly enjoyed the softness because I feel that a mattress protector should have a feel that is as similar to the mattress itself as possible. There should be no means for discerning the difference in how you sleep between a mattress with or without a protector, and it seemed to me that the SafeRest mattress protector was going to be an 'invisible' layer added to my mattress, which is exactly what I prefer.
Protection
Protection Perhaps the most important test of a mattress protector is to go all out and try to break the claim, especially when the manufacturer is claiming 100% waterproof protection. That means I should be able to spill a glass of water or apple juice on my covers with zero leak through. So, that's what I did, to test protection from water and odor.
I started by first sleeping on the mattress with the cover, to gauge the comfort and softness and to determine more about how breathable it really was. It seemed to do well with not allowing my sweat, which can get pretty bad at night, to seep through. The mattress was completely dry.
I'm always concerned with such large, blustering claims because not all manufacturers do enough tests before determining that their product is indestructible. So, before I poured the juice, I put a towel and a garbage bag beneath the protector, just in case. I didn't want to be out a mattress! Then, I poured the juice and let it set for eight hours, checking every two hours for leakage. To my great relief, there was none, so I feel this protector lives up to the claim!
Those who suffer from night sweats, whether naturally or due to an underlying condition or medication you're on (both permanently and temporarily) will appreciate this, considering the problems that can arise from such a condition. I know I found this particularly comforting in the way the mattress protector performed.
Spill Test
What I did notice that remains outside of the extremely expensive, high quality standard was that the liquid did not seep into the mattress cover. However, it merely spread across and remained on top, never touching the mattress, towel, or garbage bag. I consider this a successful venture.
However, if you are looking for a mattress protector for a child that may still have the occasional middle of the night accident, you also don't want that child sleeping in a pool of urine. Therefore, it may not be the optimal choice for a child's bed, considering that some mattress protectors will absorb without leakage to the mattress. These are probably more suitable for a child's bed.
Construction
The SafeRest protector is made of hypoallergenic cotton terry fibers, which create a soft but waterproof construction. You can order it in a variety of sizes to fit your bed. I have a queen-sized bed, and though the protector seemed a little bit oversized, the elastic on the edges helped fit it properly to the bed, letting me tuck it a little deeper. The depth of the cover is made to fit up to 22 inches, making it similar to other items in its class and allowing it to fit most beds.
In fact, its depth even makes it useful if you have a thick mattress and an additional mattress topper for comfort purposes. Few applications would be outside the capabilities of the SafeRest in terms of fitting your mattress. Note, however, that the mattress protector is not available for full size mattresses.
It's also constructed to reduce that plastic noise when you move, and I found it lives up to its claims for sure.
Comfort
My pet peeve with mattress covers is the squeaking and crinkling sound you can't seem to get away from. I slept on this mattress cover for a week, just to make sure I wasn't overly tired and sleeping through it, and I came to the conclusion that this is probably the quietest protector I've ever slept on. In addition, the cotton-terry blend that blocks common household allergens was soft and inviting for a good night's sleep.
Heat Retention
At first, I didn't see a problem with getting overheated. After all, the top layers were light and breathable. But about halfway through the night, I started to get a little too hot for my comfort level. This is pretty typical of all mattress protectors, since they do have the waterproof underlayer. There isn't much to be done about it, and I've had worse experiences. I wouldn't call this a fail, since there are so many other promising thing and it didn't keep me up all night. I got up, got a drink of water, and felt cooler when I lay back down.
If you have severe night sweats or sleep extremely hot, you may need to consider a specialized mattress protector with additional heat disbursement properties rather than a more standard application such as this. However, of the mattress toppers I've tested, this is certainly not one that sleeps so hot I couldn't stand it. If you are the average sleeper who tends to get a little warm from time to time, you should be mostly comfortable.
Maintenance, Care and Warranty
The SafeRest protector comes with a full replacement 10-year warranty. The company asks that you machine wash and dry any returns for warranty purposes. This could be anything from a tear to no longer being 'spillproof' or anything else covered by the warranty. The product is easily cared for. It is designated machine washable, and you can dry it, too. Just be sure never to dry it on 'high heat' since that can damage the material. It's a quick way to kill the waterproof layer.
For a refund, send back an unopened package within 14 days. This will get you your money back. Simply call the number listed on the website and ask for a Return Authorization. When it is given, ship the original package back to start the return process.
The average mattress is expected to last about 10 years, and you can expect no less from the SafeRest mattress protector, based on its claims and coverage.
Bonuses
The bonuses here, as far as I'm concerned, are twofold. First, the price is great, very affordable for any size. I would love one of those high end protectors that cost a fortune, but I can't justify the expense, considering most of them don't have any longer warranties. Second, I really like the noiselessness of the design. I can stand a little extra warmth at night if it means a sound sleep uninterrupted by crinkles.
Customer Reviews and Feedback for the SafeRest Mattress Protector
Online customers have said quite a bit about this product.
Protection
The only suggestion that this has been an issue is that, having washed the mattress protector more than 20 times, the waterproof seal has failed. Of course, this might be related to poor attention to the directions and drying the cover on high heat. I can't contact each individual who reviewed the product to find out, but since it's not mentioned with frequency, I would assume that to be the case.
Durability
Again, the only poor reviews spoke of the cover melting in the dryer. As I said before, the directions are clear on care and handling. This is not a problem with the quality and durability of SafeRest products. It's just poor care. The vast majority of reviews were glowing.
Odor

My sheets held no odor at all, not even the slightest hint of apple juice or sweat. No reviews mentioned a problem in this area, either.
Customer Support
The SafeRest website is easy to navigate, gives lots of information, and lists the number in several places. Calling that number gets you through to support with no issues. You can also find SafeRest on all social media, which makes them easily accessible to the world over.
Feedback on Features
There are always a few people who complain about everything in life, no matter how good it is. But overall, the feedback on the features was good, most of it raving about how excellent the product was. And for the price, I would add my accolades as well.
Conclusion
Perhaps the best way to describe the overall impression of the SafeRest Premium Mattress Protector is to say that it earns the highest compliment you can give such a product. I would trust it to protect my mattress from liquids, dead skin, allergens, and other such nasty bits, throughout the warranty. And should there be a problem, I would put my trust in SafeRest to hold true to the warranty and replace it for me.
The SafeRest mattress protector holds its own against more expensive solutions to protecting the integrity of your mattress without the additional – and somewhat unjustified – cost. While it's not considered a 'luxury' or 'high end' product, it certainly performs on the higher end of the spectrum and has a quality feel to it you don't get with most other affordable options.
Frequently Asked Questions
Is protector attached with corner anchors or fitted like a sheet?
Fitted.
Is this protector machine-washable?
Yes, just never dry on high heat.
Will the pocket depth be enough for my mattress?
Depth made to fit up to 22 inches.
Is there a warranty?
10 years.