Your bedroom should be a sanctuary. It should be a place to relax, shake off the stress of the day, and enjoy time with your significant other. That's where your mattress comes in. After a long and tiring day, nothing soothes like sinking into a comfortable mattress. It's one of the most important things that you own. After all, you can only get quality sleep with a quality mattress.
Aviya is a hybrid mattress that combines a premium quilted top layer with a layer of comfort foam that provides that lulling "hotel feel" from the moment you lay down. Their support foam layer (which rests on top of an individually wrapped innerspring core) gives your body and back the necessary support for a night of satisfying sleep. In addition to their comfort and quality, Aviya mattresses are also eco-friendly and handcrafted in the USA without harmful chemicals or toxins. You can depend on this company to provide the absolute best that mattresses have to offer.
Aviya Mattress Specs
Free Shipping (Lower 48 States)
100 Night Trial Period
10 Year Warranty
Video Feature
Learn more about the mattress below.
All About Aviya Mattress
• Comfort and Feel
Aviya mattress come in three firmness options : soft/plush, luxury firm, and firm.
This option is for anyone who craves a soft and lush feel. Generous layers of plush foam allow sleepers to settle into the mattress. You will feel more like you are "in" than "on" the bed. This is an ideal choice for side and back sleepers. It rates about a 4/10 on the firmness scale.
This is Aviya's most popular comfort option. It strikes that Goldilocks balance, neither too hard nor too soft. It fees slightly firm with a plush layer between the sleeper and the supportive core. This firmness level is best suited to stomach and back sleepers. It rates about a 6.5/10 on the firmness scale.
This mattress is for anyone who likes a firm, yet not rock-hard surface. You will feel more "on" the bed than "in" it, making this an ideal choice for stomach sleepers. It ranks about an 8/10 on the firmness scale.
Unlike all-foam mattresses, the Aviya hybrid mattress provides core support through an innerspring system, where each individual steel coil is wrapped in its own fabric pocket. Springs provide active support rather than the passive support of foam, literally pushing back to support your body. The result is a more responsive sleep surface that offers greater comfort regardless of how your body moves throughout the night. With 800 coils (queen-size) and a full 8" spring depth, this innerspring system provides more substantial support than a linked spring system or the 2-3" micro coils found in other innerspring mattresses. For this review, I tested the Luxury Firm mattress.
Comfort and Feel rating: 4.7/5
• Motion Transfer
Light sleepers tend to wake up from the slightest sound or disturbance. If a light sleeper shares a mattress with a noisy or restless sleeper, they will need a mattress that isolates motion. So, it's always important to test how a mattress supports motion transfer.
Fortunately, Aviya handles motion transfer well. With small movements, like changing sleeping positions, there is very little noticeable motion transfer. The individually pocketed coils help isolate motion to a specific area. For larger movements, like flopping down on the bed, you will experience slightly more disturbance. But that's not the fault of the mattress. That's the fault of the lousy bed-flopper who disturbed your sleep.
Motion Isolation rating: 4.7/5
• Temperature
Sleeping cool and comfortable is important for a good night rest, therefore many companies make a concerted effort to produce a mattress that can regulate temperature. You'll sleep cool on the Aviya all night long thanks to their premium quilting combined with a 1″ layer of high-density breathable comfort foam and the coil system which has increased airflow so that heat is not retained in the mattress.
For Temperature regulating features, I give Aviya a 4.75 out of 5
• Edge Support
Whether intentional or not, no one sleeps in the center of a mattress every time. Sometimes you'll end up at the edge of a bed and feel like you are about to fall off. That's why we need edge support. A good mattress should support sleepers from the center all the way to the edge.
Aviya mattresses have a 3″ thick foam edging that encases the entire mattress. This allows users to sleep edge-to-edge. No more rolling off the bed and feeling unsafe. Their foam edge encasement is pretty solid and stable. Even if you sit right on the edge with all of your weight to tie your shoes, you won't sink down or bottom out. This little test is always a good indicator of quality edge support and the Aviya didn't disappoint!
Edge Support rating 4.8/5
• Off Gassing
Most new products smell. It's the result off-gassing, which is when some of the chemicals used in production leak out. Most new mattresses off-gas as they settle. That's not a problem. What customers need to look out for are mattresses that off-gas for too long. Thankfully, the Aviya mattress does not have an offensive odor when you unbox, but it does have a faint new product smell that lasts for a day or two. That's not so bad, all things considered.
Off-Gassing rating: 4.8/5
• Delivery and Set-Up
Aviya mattresses are wrapped, shipped, and delivered in a box. They are not compressed or vacuum-sealed. Their mattresses are widely available for customers living in the continental U.S, but unfortunately delivery is not available for customers living in Alaska, Hawaii, Canada, or other international destinations. Standard delivery is free. There is also a white glove delivery that provides additional services like in-home mattress assembly and old mattress removal. In-home assembly costs $99 and getting that old mattress removed will set you back an additional $60.
Delivery normally takes between 7 to 10 business days. There is a tracking site to follow your mattress' progress and customers can coordinate the time and date of their delivery to a degree. Aviya will provide a 24-48 hour window of delivery between 8 am to 5 pm. If no one is home to receive the mattress, there is a re-delivery fee of $99. Customers are advised to thoroughly check their new mattress for damage before accepting it.
For further info on Aviya's delivery process, click here.
• Trial and Warranty
Ordering products online come with risk, especially when ordering from a new company. To avoid customer dissatisfaction, most mattress companies offer a trial period. Aviya offers customers a 100-night trial period for all mattresses. Customers can request a full refund at any time during this period if they are not satisfied with the mattress (excluding white glove delivery charges, which aren't refundable). However, it's recommended to give the mattress at least 3-4 weeks to break in. Aviya has the right to refuse to collect any mattress that they consider unsanitary as a result of the customer's mishandling. Those who wish to exchange their Aviya mattress for another with a different firmness level may do so during this period. One exchange is allowed per 100-night trial. Aviya is responsible for all delivery and transport charges related to any mattress replacement.
Aviya also provides a 10-year non-prorated warranty on all mattresses. At their discretion, Aviya will repair or replace mattresses that are defective as a result of poor construction. However, after any repair or replacement, the warranty period will not be extended and new warranty will not be issued. Customers are responsible for all shipping and transportation costs related to a repair or replacement. There are terms and conditions that must be met to fully benefit from the warranty, including placing the mattress on a proper foundational standing, not smoking in bed, not jumping on the mattress, and more. Aviya's trial and warranty policies are pretty standard, even though some companies have started to offer a 25-year warranty on mattresses. Click here for more info on Aviya's warranty package.
Trial And Warranty rating: 4.65/5
Materials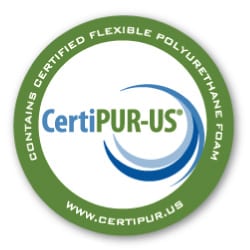 One of the primary reasons I chose to review any mattress on this site is because it utilizes organic, natural, or CertiPUR-US Certified foams (or all three). Aviya uses CertiPUR-US certified foams in it's construction. If you are not familiar with CertiPUR-US foams, now is a good time to get acquainted with the process.
CertiPUR-US is a certification program administered by a not-for-profit organization.
CertiPUR-US certified foams are:
Made without ozone depleters
Made without PBDEs, TDCPP, or TCEP ("Tris") flame retardants
Made without mercury, lead, and other heavy metals
Made without formaldehyde
Made without phthalates
Made with low VOC (Volatile Organic Compound) emissions for indoor air quality (less than 0.5 parts per million)
Aviya is an innerspring mattress (although some people call it hybrid because of the pocketed coils). The main materials used in constructing an innerspring mattress include:
The top layer made with quilted foam and a stretch-knit cover
The top comfort layer made with 1.8 PCF polyfoam
The support layer features 1.8 PCF polyfoam, foam encased edge support, and 15-gauge steel pocketed coils.
— Quilting Foam
Alvia mattresses use a specially designed quilting foam that provides extra softness and comfort. This layer provides a perfectly smooth surface to sleep on and is on both sides of the mattress.
— Polyfoam
Polyfoam is similar to memory foam, but does not have the viscoelastic properties that allows sleepers to sink in. It is a bit more firm and resilient to support the heavier part of the body. It simultaneously provides support and comfort.
— Pocketed coils
The support layer is also made of pocketed coils. The independent coils are wrapped in fabric pockets, a design now common in innersprings like Aviya. The coils work independently and conform to the body's contours, helping to relieve pressure and isolate motion.
(Corresponds to Mattress Layers Image Below)
1. Stay cool and comfortable.
You'll sleep well on your Aviya all night long thanks to premium quilting combined with a 1″ layer of high-density breathable comfort foam.
2. Sag no more
Say sayonara to sags! A layer of high-density foam resists sags and provides years of comfort and stability.
3. Feel supported.
The third layer of foam enhances lumbar support and full-body support for all your pressure points.
4. Stretch out.
Our 3″ thick foam edging encases the entire mattress, allowing you to sleep edge-to-edge. No more rolling off the bed or not being able to use the entire sleeping surface.
5. Wrapped innerspring core for superior support.
Our individually wrapped innerspring core is the best and most expensive available, using 15-gauge steel. We've even added a more solid set of springs in the middle of the mattress where that support is most needed.
6. Stability Layer
A 1″ thick stability layer helps transfer weight and energy evenly and provides the ideal sleeping surface from bottom up.
7. Enjoy a solid foundation.
Our premium foundation is made with quality wood and features 12 stats.
Materials rating: Aviya a 4.75/5
Popular Reviews
John Auer wrote in his review:
"For this price range, I don't think there's an innerspring mattress out there that competes with Aviya. I recommend their Luxury Firm model for almost everyone (although definitely consider the Firm model if you're a stomach sleeper or the Plush model if you're a side sleeper). Overall I do recommend the Aviya mattress!"
Ross and kayla from real mattress review gave a rating of 4.63/5:
"Overall Aviya is a well-built mattress for the price. I sell many mattresses that are similar in my store and see great customer satisfaction.
Like to sleep cool? The Aviya uses poly foams and quilting foams in its comfort layers. You don't get a ton of sinkage or hug, so you will sleep cooler.
Want a good value? The quality of the Aviya was impressive. Compared to other innerspring companies like Simmons, you're saving a lot of money here.
Sleep in multiple positions? Aviya is offered in 3 firmness choices, so they have you covered no matter what your preferred position.
Value good edge support? Aviya has a strong foam encasement system that allows you to sleep close to the edge.
Are you a heavier sleeper? When compared to many online options, Aviya is thicker and uses a solid coils system.
Like a traditional mattress feel? Although some people call anything with a pocketed coil system a hybrid, I would personally classify this as more of a tradition mattress that uses a pocketed coils system to reduce motion transfer and increase pressure relief."
Overall Value and Recommendation
Aviya has stormed onto the online mattress scene and made a name for itself. It performs well in all of the important categories like edge support, motion reduction, and temperature regulation. They also stand out from the competition by refusing to compress their mattress during shipping. They state, "The Aviya mattress is a substantially constructed mattress that includes a high quality wrapped coil innerspring and numerous layers of high-density foam… a superior design guaranteed to satisfy your long term comfort and durability needs. Such a product could never be vacuumed packed in a box! Our mattress will be delivered in its real and full size, sealed in a protective plastic wrapping and then placed inside of a heavy-duty cardboard box." This is a pretty unique perk that only a few companies offer (and they are all quite a bit more expensive).
The Materials in this mattress are CertiPUR-US certified, making this an even better deal. The Aviya Trial and Warranty is about on par with the industry average for mattresses of this price range and caliber. Overall, this is a very nice mattress that excels at providing comfort, support, and pressure relief.
The overall rating for the Aviya Luxury Firm mattress: 4.73/5