Are you sick of walking into the same old bedroom every single day and just thinking to yourself, "I wish there was a way I could spice this place up a little"? I feel you, I really do. My bedroom is about as plain as it could be and with all the space there is, I should be able to turn it into something quite stunning. Fortunately, while I was doing some digging, I found some master bedroom sitting ideas that are actually quite unique and beautifully created. Check out some of these concepts!
Need a good mattress to accompany your new master bedroom makeover? Check out what tops our list.
#1.Bedside Porch
This beautiful log cabin bedroom complimented by a sliding glass door leading out to a porch is ideal for watching a sunrise. If you have the porch, space and live in a place where it's warm all year around, this is a great sitting area to enjoy a cup of coffee or tea. If you live in a cold area, keep the concept, but add a couch or chair in the corner for when you can't enjoy the porch!
#2. Corner Chair
Whether your bedroom is big or small, adding a simple chair to the corner of your room can add sitting space and decoration. Can't sit up in bed and read a book? Snuggle up in the chair with a cozy blanket and let your partner sleep soundly and undisturbed. The green walls and wrought iron bed frame is a beautiful classic look.
You may be interested in: 53 Different Types Of Beds, Frames, and Styles
#3. Workstation Seating
Are your kids being noisy? Husband watching the game too loudly? Can't get your work done with all of this commotion? No worries! This bedside computer desk and chair is the ideal place to sit and get your work done in peace. Once you're finished, the bed is only a few steps away. The white mixed with wood is very modern and matches almost all decor.
#4. Couple Seating
Why not make your sitting area a place that both you and your partner can enjoy? Adding a simple futon or small loveseat to an empty corner or wall in your bedroom is the ideal way to wind down before bedtime with your loved one. Watch some television, read a book, or maybe just snuggle. There's no wrong way to use a couch.
#5. Table For Two
Compliment your beautifully designed master bedroom suite with a table for two. Adding a simple table with benches attached or even a couple of chairs or stools can really add some flare. Use that table to play a game, do some paperwork, read a book, whatever your heart desires. Try to match it to the color of your other furniture as well for an even better look.
#6. The Chair Lounge
Adding a simple chair lounge to your modern master bedroom is affordable and very common these days. Chair lounges are idea for sleeping, napping, reading, and just plain lounging. You can move them throughout the room, but kept in corners is usually the way to go.
#7. Luxury Lounging
If you're lucky enough to have a large master bedroom, why not use all of the space and add both a chair and a chaise lounge to it. The chaise is great for napping or just lounging and the chair can either be used as a space filler or a fantastic place to put on you Jimmy Choos. Somehow, green and purple just mix as you can see from this beautiful decor.
#8. Apartment Living
Apartments can be tiny and sharing it can be frustrating. If your bedroom is big enough, bring your computer and a small couch into it. This will give you the space you need and the freedom of living on your own without making sacrifices. This is also a great concept as a sitting area for homes with large bedrooms and free space.
#9. Center Of Attention
This concept is similar to the chair in the corner except that it's actually going to be placed in the center of the room on a cute area rug. This is part of a long list of decorating ideas and it's found in some very modern bedrooms. You won't feel secluded in a corner and it's the ideal spot for a shoulder massage since your partner can reach you! Add a painting on the other side so that you have something nice to look at, too.
#10. Sunshiney Day
If your bedroom has a small spot with a window, it's an ideal place for a sitting spot. A vibrant colored chair will help to make that small space look a little larger. Add a small table as an accent as well or to set your personal belongings on. You can also grab a pair of curtains for those days that need to shade yourself from the bright rays.
#11. Kids Seating
This kid sitting area is such a cute idea. It's obvious that it's a pirate themed bedroom, painted blue like the ocean with the pirate flags on the walls. Off to the side is a bench seat with some padding for the kids to rest when they get tired from playing. The green accents the blue wonderfully, not that it would matter to the kids I don't think.
#12. Chair + Side Table
Following the same idea as the chair in the center of the room, we have the chair in the center of the room, but with a side table and ottoman. This is a nifty decorating idea for bedroom sitting areas because sometimes, you just don't want to lay in bed and watch TV. So why not sit in the chair with your feet up, drink on the table, and eyes on the TV!
#13. Making Minimal Space Work
If you have a giant closet taking up space in your bedroom, turn the end of your bed into a sitting area. You can add a bench or even a small lounge for sitting and other activities. It saves space and it looks great! You may also be able to get a bed frame with the bench attached for added convenience.
You may be interested in: 48 Minimalist Bedroom Ideas For Those Who Don't Like Clutter
#14. Quaint Seats
Whether you're old fashioned or just love the older style furniture, this is a cute look for any bedroom. The two seats at the end of the bed with the table in-between give you and your partner your own seating space and a place to put your drinks, snacks, or newspaper. The black painted wicker style makes it so much more old fashioned, too.
#15. Contemporary Beauty
Contemporary designs are among the most beautiful. Make your sitting area just as beautiful with a simple ottoman and armchair. You can move the ottoman throughout the bedroom if it's big enough and sit wherever you want, while the armchair remains stationary. Add a few accent tables and you've got a one-of-a-kind bedroom.
#16. Indoor View
Who says you can't have a nice view without being able to look outside? This sitting area features two comfy armchairs with a couple of decorative pillows. Behind the chairs, two framed photos of landscaping. You can enjoy the view of your choosing without leaving your home. Add a floral plant to the accent table for an aromatic scented space as well.
#17. Luxury Sitting Area
Fill the empty space in your master bedroom suite with a sitting area of its own. This is the ideal way to add some aesthetics to a boring room while keeping it functional. Add a couch, some chairs, a chaise lounge, and maybe even a coffee table or end tables. This is the perfect space to hide out in if you've got in-laws in town!
#18. Exit From The Bedroom
Who ever said the sitting area had to be IN the bedroom? This sitting area is indeed outside, but the door leading to it is in the bedroom. Waking up first thing in the morning and reading the paper or listening to birds chirp from a chair in the backyard is the idea sitting area. Spice it up with a cute fireplace and ceiling fan to keep the air flow going and heat flowing on those chilly nights.
You may want to read: 55 of the Best Master Bedroom Fireplace Ideas & Design
#19. Simplicity
The two chair look is something that's seen a lot, but the color of the furniture can really say a lot. A simple white upholstered set of chairs can really make the sitting area of your bedroom, pop. The button pattern gives it a very old fashioned look while giving it an abstract feel with the thinned legs and wide body. The accent table is ideal for a plant or candle.
#20. Abstract Sitting
This type of sitting area is very inviting with the cute little loveseat and two multi-functional ottoman cubes. You can use the couch to sit down while you paint your toes, using the ottomans as support. You can keep a tray of nail polish, lotions, or even just a box of tissues on them and they still remain very welcoming. Move them around the room as well if you would like!
#21. Full Sitting Area
This is about as close to a living room as you could get inside of a bedroom. This sitting area features a complete sofa and loveseat, area rug, and a coffee table with two standing lamps. This would be perfect for even a guest bedroom that may be large enough. You guests can use the room for more than just sleeping.
#22. Fireplace Seating
If you're lucky enough to have a fireplace in your bedroom, or even an electric one mounted to the wall, it just adds to the overall beauty of your sitting area. Combine this with two chairs either next to it or looking right at it and a small table in the center. It's quite the cozy relaxing area.
#23. Comfy Cozy
Even if your bedroom is rather small, like those in smaller apartments, you can have a completely functional sitting area in it. Grab yourself a couch, a cute coffee table, a cowhide area rug, and an end table. Separate your bed from it with a curtain rod and a curtain. This will give your room a sitting area that doubles as a living room while remaining cozy and aesthetically pleasing.
#24. Window Seats
I am absolutely in love with this idea! A sitting area can be as simple as just a few seats on top of some storage cabinets next to a window. Pretty it up with some floral cushions and decorative pillows and you've got yourself a cute sitting area right by the window. It can also double as a sleeping space for a small child if it's in a guest bedroom.
#25. Elevated Seating
If you have the luxury of an elevated platform in your home, this is an ideal sitting area. Even if you don't, it's not that hard to build. You can utilize this area for a couch, chair, chaise, or loveseat with a table. This separates you and your guests from the bed area and it may give you a sense of distance.
#26. Vibrance
Want to give your sitting area some pizzazz? Grab yourself a vibrant colored chair, such as orange, and match your bedspread and any other accents to the color of the chair. Since it matches, you can turn any area of your room into the sitting room simply by moving the chair to another location.
#27. Multi-Seating
This particular design gives you a very functional sitting area in more than one place in the bedroom. If you want to sit in one place for more than a few minutes, the love seat area on one side of the room with the rolling table is ideal. If you would rather sit on a bench for a few seconds to put on your socks and shoes, add one to the bottom of your bed. Two sitting areas in one bedroom, very helpful.
#28. Working Without Walls
Studio apartments usually don't have walls, so how are you supposed to separate your sitting room from your bedroom? Simple! Give a few feet of space between your bed and your couch and string a curtain across the ceiling. When you're entertaining company, close the curtain and enjoy your simple couch and coffee table while your bed is out of sight.
#29. Changing The Colors
One way to separate your sitting area from your bed area is to change the color of the wall closest to your furniture. If your room is big enough for a loveseat and a coffee table, place it up against the wall that you painted a different color. This will give a completely new feel to that area. Keep your furniture neutral colored if you don't want it to clash with the wall colors.
#30. Elegant Seating
You don't have to live in luxury to have an elegant sitting area. If you have a simple bedroom and empty spaces next to some windows, grab a few neutral colored chairs with high backs and arms. You can also utilize a small couch in an unoccupied area. Add a center table and put a plant or photo on it for added decoration.
#31. Water View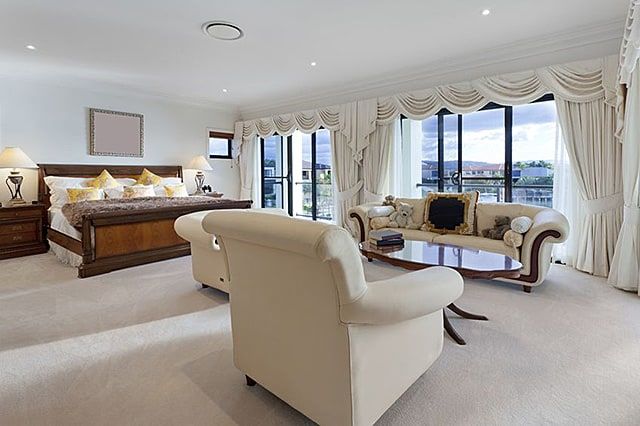 Don't let that water view go to waste! Use all of the space you can for your sitting area to view the water from every possible angle. An overstuffed simple white or beige chair, couch, and coffee table is perfect for a view such as this. Keep another couch on the other side for those days when the glare is just too bright and you need to look away from the reflection.
#32. Multiple Window Seating
This is another favorite of mine. If your bedroom is surrounded by windows, utilize it all with seating. Simple leather seats with button designs keep the look classy and vintage. Bench seating at the end of the bed is wonderful for quick seating. If your room has a glass door and patio, utilize that outside area for seating as well.
#33. Out Of Sight
Bedrooms that are in alcoves have a lot of potential for sitting rooms because there is usually a space on the wall that's out of the way. This space is used to place a simple chair and accent lamp for reading at night so that your partner can sleep undisturbed. You can choose to match the color of the bedframe or switch it up.
#34. Artsy
Apartment lofts may have slanted windows, which makes for an ideal bedroom with a sitting area. In the corner of the room, place a simple large armchair and surround it with sculptures, plants, paintings-whatever inspires you. Add a cute handmade coffee table for a homey feel and a lamp for lighting.
#35. Guest Room Chaise
When you have guests over, they may not want to lay on your couch and relax and they may not want to lay in their bed either. Adding a chaise lounge to their room makes the perfect sitting area for when they want to just relax. Top it off with a decorative pillow and a lamp for simple lighting.
#36. Close Warmth
Give your master bedroom a beautiful sitting area right in front of the fireplace. Simple armchairs and an elegant leather ottoman/table make for the ideal place to relax on a cold night. During those warm months, you can still utilize the area without the fire. Add a beautiful painting on the mantle for an added touch of peacefulness.
#37. Comfortable Seating For One
Rather than keeping your chair cooped up in a corner, keep those windows accessible and move your sitting area slightly off center from the room. Placing your chair on an area rug with a cute accent table and an ottoman make for an ideal space to read, relax, or just sit in peace. For this look, a gray colored furniture with white walls would make the seating area pop.
#38. Modernism
Having a large bedroom doesn't mean that you need to fill all of the space. Making the sitting room a simple few chairs by some tall windows makes for a quaint sitting space. If you would prefer. Find some chairs that match the interior colors of the room to make it fit in even more with everything else.
#39. Minimalist Seating
Minimalism is very common in smaller homes. You can use this idea for your sitting area, especially if you have large areas in your room with windows looking out into nature. Grab just a simple chair and a small end table to use for a vase and you've got yourself a cute little sitting area. You can sit there and experience nature without sacrificing a ton of space in your bedroom.
#40. Contemporary
This contemporary bedroom hides the sitting area very well. The brown walls with green accents blend perfectly and just around the corner is the beige chair and ottoman for relaxation. It's separated from the rest of the room and gives you and your partner space when needed.
#41. Unique Seating
This is quite the unique bedroom and sitting area. Notice the concrete walls and padded headboard? You have that plus the wood lined alcove sitting area. I like this concept because it feels like the seating is out of the way and in its own little section. The simple contemporary chair match the concrete and coffee table match the bedspread for consistency.
#42. San Francisco Living
Very popular in San Francisco is hardwood floors and bay windows. In this room, the bed is very well placed in the small corner of the room while the rest of it is left for the sitting area. The cute upholstered furniture fits nicely by the window and by the wall while matching the area rug and complementing the hardwood floors.
#43. Fireplace Space
Rather than sitting right in front of the fireplace, sitting on each side of it is just as cozy and not as warm. These two chairs go hand-in-hand with the color of the wall. They are very victorian-like, giving the sitting area a very classy feel, leaving the entire room very aesthetically pleasing.
#44. Wainscoting & Carpet
It can be hard to match furniture to wainscoting and carpet all at the same time. As you can see here, they did a beautiful job of just adding a simple white loveseat to the sitting area. It compliments the carpet and wainscoting beautifully and it also gives a feeling of separation from the bed area for optimal relaxation.
#45. Spaces In Between
This beautiful room has enough space for its own separate sitting area out of the way of everything. It sits in out of the way between the raised flooring of the bed area and the bathroom area. You'll notice that the wood-like coffee table blends perfectly with the light brown color of the walls and the multi-color design of the chairs. Quite the peaceful sitting area.
#46. Separation
Not many people are able to separate their sitting area, but for those who are, this is a beautiful idea. Notice how there is a doorway separating the sitting area from the bedroom? The cutouts keep the room whole, but it still gives it a sense of closure when R&R is needed without being in the bed. The beige armchairs look very comfortable and those decorative blue pillows that match the walls are very tasteful.
#47. Lavish Hardwood & Windows
Not many people are able to separate their sitting area, but for those who are, this is a beautiful idea. Notice how there is a doorway separating the sitting area from the bedroom? The cutouts keep the room whole, but it still gives it a sense of closure when R&R is needed without being in the bed. The beige armchairs look very comfortable and those decorative blue pillows that match the walls are very tasteful.
#48. Multiple Seating Arrangements
This room has the option for so much seating. The high ceilings give it the sense of being bigger than it really is, making all of that seating acceptable. The lounge at the end of the bed is cute and very simple, as well as the unique high back chair looking towards the bed. The couch over on the other side by the wall is the ideal sitting area when you just want to be out of the way and relax without utilizing the bed. Notice how they all match something in the room?
#49. The Office Chair
This is probably one of the simplest on the list. It's simply just a rolling office chair with a rolling foot rest that matches. It's very contemporary and leaves the sitting area open to imagination. But wait, look up! The chair actually matches the ceiling fan. Not simple after all, is it?
#50. The Brown Crown
This bedroom may be small, but the sitting area matches everything beautifully. The overstuffed white armchair compliments the brown crown moulding and brown bench seat at the end of the bed with ease. Rather than laying in bed to read that novel, put your feet over the arm of the chair and get comfy.
#51. Limestone & White
The limestone tile floors in this room give this room a very vintage look, especially paired with the window bench seat for the sitting area. The white cushioning for it does a very good job of complimenting all of the decor and furnishings in the room, however. It's the perfect spot for reading a book or enjoying some fresh air.
#52. Black & Gold
This bedroom has a completely separate sitting room, which is pretty awesome. The black and gold coloring of this room is very elegant and luxurious. The black and gold coloring of the chairs and ottomans in the sitting area match all of the decor and even the decor with perfection. Check out that fireplace built into the corner of the wall-outstanding!
#53. Oceanside Sitting
This separate sitting room is such a beauty. The white furniture and white walls make the room look bigger than what it really is and the picture window gives the occupant a view that anyone would love to have. Adding a couch and some decor will really liven up the area as well.
#54. More Than Enough Seating
This beautiful room has a sitting area with more than enough seating for at least 5. The high coffee table allows for eating, game play, any anything else you would need a high table for. The color of the furniture matches the crown moulding and bed frame beautifully as well.
#55. Victorian Seating
This Victorian master bedroom is absolutely stunning. Notice how the sage walls compliment the white and burlap colored furniture so well? The burlap colored coffee table paired with the white couch in the sitting area make the room look very elegant while remaining functional and the perfect relaxing spot.
#56. Hotel-Like
This bedroom has a seating area that is very similar to one that you would find in a hote. Notice how the brown furniture fits perfectly with those salmon colored throw pillows? I don't know how, but it really works. That small space is ideal for a couple to just sit and talk over a glass of wine with their feet up on that unique ottoman.
Conclusion
You can make a sitting area out of almost any space in your bedroom, it's just a matter of knowing how to utilize that space and picking out the proper furniture. If you think that it's going to make your room too small, paint your room a bright color or pick a bright color chair or couch. These types of colors make thing seem bigger, whereas dark colors make rooms look smaller. If you have a small room, keep it simple. Adding small decorations can really help with the all around aesthetics of the sitting area as well.
As always, if you found this list helpful share it! Or, if you have your own ideas, feel free to comment below. We always love to hear from you.